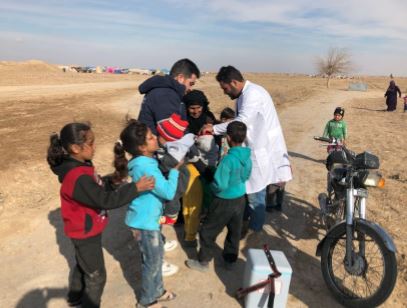 Vaccinators outside an informal tented settlement in Deir Ez-Zor administering polio vaccine to children, as part of the campaign. Photo: WHO
Situation update 31 July 2018
No new cases of cVDPV2 have been reported in 2018. The total number of cVDPV2 cases remains 74.
Efforts to enhance surveillance for polioviruses continue. A new environmental surveillance site has been established in Mayadeen district of Deir Ez-Zor governorate, the epicenter of the outbreak. This takes the total number of environmental surveillance sites in Syria to 11.
Efforts to strengthen the Expanded Programme on Immunization to maintain high population immunity are ongoing. 86 routine immunization fixed centers in Idleb, Hama and Aleppo governorates have been restored.
Syria cVDPV2 outbreak situation report 41, 31 July 2018
2018
Syria cVDPV2 outbreak situation report 40, 30 June 2018
Syria cVDPV2 outbreak situation report 39, 31 May 2018
Syria cVDPV2 outbreak situation report 38, 27 March 2018
Syria cVDPV2 outbreak situation report 37, 13 March 2018
Syria cVDPV2 outbreak situation report 36, 27 February 2018
Syria cVDPV2 outbreak situation report 35, 20 February 2018
Syria cVDPV2 outbreak situation report 34, 13 February 2018
Syria cVDPV2 outbreak situation report 33, 6 February 2018
Syria cVDPV2 outbreak situation report 32, 30 January 2018
Syria cVDPV2 outbreak situation report 31, 23 January 2018
Syria cVDPV2 outbreak situation report 30, 16 January 2018
Syria cVDPV2 outbreak situation report 29, 9 January 2018
Syria cVDPV2 outbreak situation report 28, 3 January 2018
2017
Syria cVDPV2 outbreak situation report 27, 19 December 2017
Syria cVDPV2 outbreak situation report 26, 12 December 2017
Syria cVDPV2 outbreak situation report 25, 6 December 2017
Syria cVDPV2 outbreak situation report 24, 28 November 2017
Syria cVDPV2 outbreak situation report 23, 21 November 2017
Syria cVDPV2 outbreak situation report 22, 14 November 2017
Syria cVDPV2 outbreak situation report 21, 7 November 2017
Syria cVDPV2 outbreak situation report 20, 31 October 2017
Syria cVDPV2 outbreak situation report 19, 24 October 2017
Syria cVDPV2 outbreak situation report 18, 17 October 2017
Syria cVDPV2 outbreak situation report 17, 10 October 2017
Syria cVDPV2 outbreak situation report 16, 3 October 2017
Syria cVDPV2 outbreak situation report 15, 26 September 2017
Syria cVDPV2 outbreak situation report 14, 19 September 2017
Syria cVDPV2 outbreak situation report 13, 12 September 2017
Syria cVDPV2 outbreak situation report 12, 6 September 2017
Syria cVDPV2 outbreak situation report 11, 29 August 2017
Syria cVDPV2 outbreak situation report 10, 22 August 2017
Syria cVDPV2 outbreak situation report 9, 15 August 2017
Syria cVDPV2 outbreak situation report 8, 8 August 2017
Syria cVDPV2 outbreak situation report 7, 1 August 2017
Syria cVDPV2 outbreak situation report 6, 25 July 2017
Syria cVDPV2 outbreak situation report 5, 18 July 2017
Syria cVDPV2 outbreak situation report 4, 12 July 2017
Syria cVDPV2 outbreak situation report 3, 4 July 2017
Syria cVDPV2 outbreak situation report 2, 27 June 2017
Syria cVDPV2 outbreak situation report 1, 19 June 2017
News
More than 355 000 children under 5-years old vaccinated against polio in hard to reach areas of Syria
18 August 2017
Related link