The World Health Organization, in collaboration with the Ministry of Health of the United Arab Emirates, is holding a regional meeting on accelerating progress towards universal health coverage: global experiences and lessons for the Eastern Mediterranean Region, in Dubai, from 5 to7 December 2013.
Universal health coverage is emerging as a global health priority which is likely to occupy a significant place in any future global development agenda.
Universal health coverage means that all people have access to good quality health care, without running the risk of financial ruin. This means without having to pay from their own pocket excessive amounts that would either limit their spending on other essential services or push them into poverty. Universal health coverage focuses on all types of health service and not just treatment.
» Full story
Towards an inclusive society and development for all
3 December 2013 - The World Report on Disability estimated in 2011 that about 15% of the world's population – equivalent to over one billion people – lives with some form of disability . These people face barriers in different aspects of life, whether physical, social, economic or attitudinal, that negatively affect their access to education, employment, health and social participation. This, in turn, deprives their communities of their effective contribution to development.
Over the past decades, it has become increasingly evident that without mainstreaming persons with disabilities and their contribution to all life and developmental aspects, it is unlikely that any major development goals can be achieved.
For this reason, the theme for the International Day for Persons with Disabilities for 2013, is "Break Barriers, Open Doors: for an inclusive society and development for all".
» Full story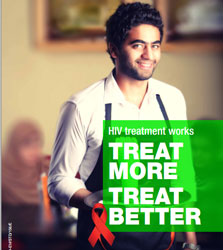 Cairo, 27 November 2013 – Not even one in five people living with HIV in the Eastern Mediterranean Region and in need of treatment is actually receiving it. The number of people living with HIV and receiving antiretroviral therapy (ART) in the Region has increased over the past five years. However, the number of new infections is increasing at a faster pace. In addition, the majority of people living with HIV do not know that they have acquired the infection because they have never taken the HIV test. Even when they have been diagnosed, they are not always linked to care and treatment and may lose contact with the health system for many years. By the time they return, they may already be sick and treatment may be less effective.
To address this alarming situation, the World Health Organization Regional Office for the Eastern Mediterranean launches, on the occasion of World Aids Day, a new regional campaign to expand access to good quality treatment and care.
» Full story
Universal health coverage is of crucial importance to save millions of people from illness and poverty

International Day for Persons with Disabilities 2013

WHO, the Regional Office for the Eastern Mediterranean launches the World AIDS Campaign 2013: HIV treatment works! Treat More, Treat Better
Emergencies and outbreaks

Emergencies
Syria crisis
Outbreaks
Regional Director and governance