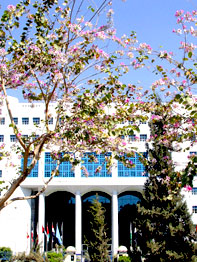 The World Health Organization (WHO) is the directing and coordinating authority for public health within the United Nations system.
The WHO Regional Office for the Eastern Mediterranean is one of WHO's six regional offices around the world. It serves the WHO Eastern Mediterranean Region, which comprises 21 Member States and Palestine (West Bank and Gaza Strip), with a population of nearly 583 million people.
The Regional Office, together with country offices in 18 countries of the Region, works with governments, specialized agencies, partners and other stakeholders in the field of public health to develop health policies and strengthen national health systems. Countries of the Region are represented in the World Health Assembly, WHO Executive Board and Regional Committee for the Eastern Mediterranean.
The official languages of WHO in the Eastern Mediterranean Region are Arabic, English and French. However, national languages such as Farsi, Urdu, Dari, Pashto and Somali are also of great importance in communicating health messages and delivering health programmes in the Region.
The Regional Office is located in Cairo, Egypt.
Related links
Regional Office for the Eastern Mediterranean organizational structure [pdf 44kb]
Constitution of the World Health Organization [pdf 60kb]
More about the World Health Organization
Links to WHO country offices
Occupied Palestinian territory