WHO QualityRights toolkit available in Arabic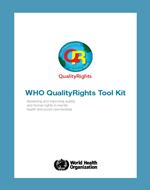 WHO developed the QualityRights toolkit to support countries to assess and improve the quality of care and human rights conditions in mental health and social care facilities. The toolkit:
is suitable for use in low, middle and high-income countries
can be used by governments and nongovernmental organizations
supports improvements on the ground and at policy level
promotes participation of people with mental health conditions.
Making this toolkit available to countries and all relevant stakeholders in multiple languages is key, as it is an essential resource, not only for putting an end to past neglect and abuses but also for ensuring high quality services in the future.