Relevant health topics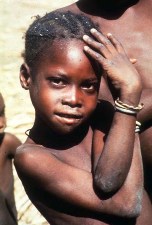 A young girl exhibits the early skin changes associated with onchocerciasis. Photo credit: WHO Tropical diseases encompass all diseases that occur solely, or principally, in the tropics. In practice, the term is often taken to refer to infectious diseases that thrive in hot and humid conditions. Today, tropical diseases are also becoming diseases of development, closely associated with people's need to earn an income through massive migration from rural to urban areas, and with the development of new irrigation and mining projects.
Research topics supported by the Regional Office for the Eastern Mediterranean were initially limited to tropical diseases of regional importance but the scope was expanded in 2002 to include other communicable diseases of growing importance.
Related links
Epidemics, see Disease outbreaks
Human immunodeficiency virus (HIV) and sexually transmitted infections (STI)
Neglected tropical diseases, see Tropical diseases
Vaccines, see also Immunization