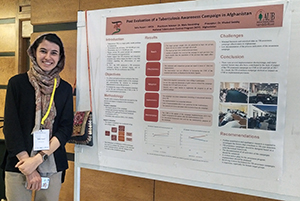 Researchers, health programme staff and policy-makers concerned with Neglected Tropical Diseases (NTDs) and other infectious diseases of poverty met in Beirut, Lebanon, from 11 to 12 May at a scientific conference hosted by the American University of Beirut (AUB) and supported by TDR.
Infectious diseases of poverty are resurgent in a number of countries in the region in part because of political, civil and economic instabilities that have weakened health delivery systems and disease surveillance capacities. Over 400 million people are affected by at least one NTD in this part of the world.
News
1 November 2018 – The World Health Organization Regional Office for the Eastern Mediterranean and the UNICEF/UNDP/World Bank/WHO Special Programme for Research and Training in Tropical Diseases (TDR) are pleased...
» Read the full story

14 January 2018 – Implementation research is conducted within routine systems and real-life settings, removed from the controlled settings associated with other types of scientific research. With development of the TDR...
» Read the full story
In focus
14 May 2017 – Representatives from the Ministry of Health of Libya and the National Center for Disease Control paid a 2-day visit to the WHO Regional Office from 24...
» Read the full story
Events
14 January 2018 – The TDR Special Programme, in collaboration with academic and research institutions, has developed a training programme entitled "Good Health Research Practice". The aim of the course is...
» Read the full story