News

Hepatitis B virus (HBV) remains a major public health problem worldwide. Egypt is considered an area of intermediate for the virus. HBV transmission by hepatitis B surface antigen (HBsAg) negative...
» Read the full story
Researchers from Senegal and Colorado State University have found that ivermectin, a cheap, common heartworm medication used to combat onchocerciasis (river blindness) and other parasitic diseases, could also dramatically interrupt...
» Read the full story
Nine out of ten deaths from malaria occur in sub-Saharan Africa. Various control measures have achieved some progress in the control of the disease, but malaria is still a major...
» Read the full story
In focus
Deadline for submissions: 30 November 2014 In line with health research needs identified by both the World Health Organization (WHO) Regional Office for the Eastern Mediterranean and TDR, this call is...
» Read the full story
Events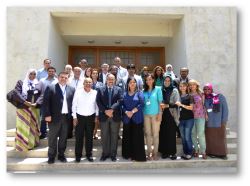 The workshop was held at the Pasteur Institute, Tunis, Tunisia, using the TDR implementation research toolkit and included 16 participants from Afghanistan, Pakistan, Islamic Republic of Iran, Sudan, Tunisia, Yemen....
» Read the full story
Under the theme of "Beyond aid…research and innovation as key drivers for health, equity and development", the Council on Health Research for Development (COHRED) and the Global Forum for Health Research will...
» Read the full story