New implementation research funded in Eastern Mediterranean region
TDR news item
27 January 2017
Eight new implementation research proposals have been selected for the Joint TDR/ World Health Organization Eastern Mediterranean Region Small Grants Scheme. Projects are on neglected tropical diseases, malaria and tuberculosis.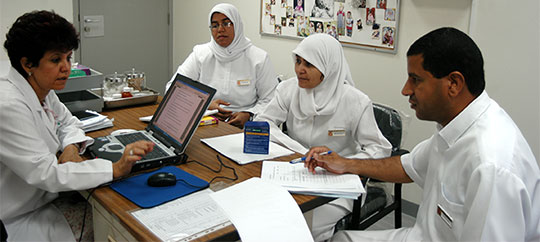 News

14 January 2018 – Implementation research is conducted within routine systems and real-life settings, removed from the controlled settings associated with other types of scientific research. With development of the TDR...
» Read the full story
28 April 2017 – The journal PLOS NTD has published an article profiling the progress and challenges building research capacity in low- and middle-income countries. They highlight successes from TDR and...
» Read the full story
Deadline for submission: 1 August, 2016 Only applicants from the WHO Eastern Mediterranean Region are eligible. The WHO Regional Office for the Eastern Mediterranean and the Special Programme for Research and Training...
» Read the full story
In focus
14 May 2017 – Representatives from the Ministry of Health of Libya and the National Center for Disease Control paid a 2-day visit to the WHO Regional Office from 24...
» Read the full story
Events
14 January 2018 – The TDR Special Programme, in collaboration with academic and research institutions, has developed a training programme entitled "Good Health Research Practice". The aim of the course is...
» Read the full story
12 March 2017 – In collaboration with Arabian Gulf University (AGU) in Manama, Bahrain and Tropical Disease Research (TDR), WHO headquarters, the Research Promotion and Development programme in the WHO...
» Read the full story