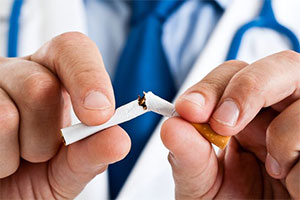 20 June 2018 – In a historical move, the Government of Pakistan has banned the sale of loose cigarette sticks with immediate effect. This landmark decision came through a Statutory Regulatory Order (SRO) Notification No SRO 415 (1)/2018, published on 3 April this year.
The Notification says that "No retail seller or any person shall sell, offer for sale or distribute any cigarettes unless they are in a packet of at least twenty cigarette sticks". The Government has already banned the sale of cigarettes to minors.
This decision will go a long way in making cigarettes less affordable and also in reducing the prevalence of tobacco, particularly among the youth. WHO has been a strong advocate for this ban. The Organization has lauded the Ministry of Health for this historic step and dubbed it a real move towards controlling tobacco smoking in Pakistan. Meanwhile, the decision has been widely hailed by all tobacco control bodies.
Related link