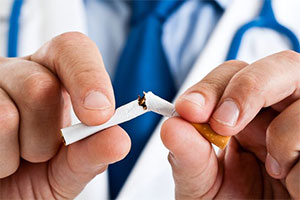 20 June 2018 – In a historical move, the Government of Pakistan has banned the sale of loose cigarette sticks with immediate effect. This landmark decision came through a Statutory Regulatory Order (SRO) Notification No SRO 415 (1)/2018, published on 3 April this year.
The Notification says that "No retail seller or any person shall sell, offer for sale or distribute any cigarettes unless they are in a packet of at least twenty cigarette sticks". The Government has already banned the sale of cigarettes to minors.
» Full story
Dr Sana Hafeez receives nomination as WHO Global Champion for Assistive Technology from President of Pakistan Mr Mamnoon Hussain. WHO Pakistan22 May 2018 – 25-year old Pakistani doctor Sana Hafeez has been advocating for improved access to assistive technology ever since a tragic accident left her with a spinal cord injury which meant that she must use a wheelchair for the rest of her life.
"The accident happened when I attended a good friend's wedding in March 2016", recalls Dr Hafeez. "There was nothing unusual about this night - it was a typical wedding ceremony full of festivities among family and friends. As we were celebrating, a heavy metal pole from the scaffolding above fell directly on my back causing a traumatic spinal cord injury," she says. "I went to that wedding wearing high heels, and I left the wedding as a spinal cord injury patient."
» Full story
Government of Pakistan bans the sale of loose cigarettes

Pakistani doctor Sana Hafeez named WHO Global Champion for Assistive Technology