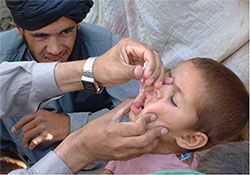 26 April 2017 – At the heart of the polio eradication effort are thousands of individuals working to reach every last child with vaccines and find every last virus through the polio surveillance system. As part of World Immunization Week, new polio-themed animated videos are being launched focusing on the Polio Surveillance System and Reaching Every Last Child to show the scope and complexity of the global drive to end this paralysing disease and highlight the role of WHO.
The polio eradication effort is one of the biggest public health programmes in the world, reaching over 400 million children with polio vaccines every single year. Since its inception in 1988, the Global Polio Eradication Initiative (GPEI) has reduced cases of paralysis caused by polio by 99.99%, bringing the historic goal of eradicating the second disease in history within reach.
» Full story
A patient with leishmaniasis receives an injection25 April 2017– A training workshop on the diagnosis, treatment and management of leishmaniasis was held in Peshawar on 10 April 2017, organized by World Health Organization (WHO) and the Khyber Pakhtunkhwa Department of Health. Since January 2014, 22 112 cases of leishmaniasis have been reported in the province. Training workshops are also to be organized in other provinces.
Dr Shabina Raza, Director-General of Health Services for Khyber Pakhtunkhwa, noting the Department of Health's close collaboration with WHO, expressed her appreciation to WHO for importing 50 000 doses of Glucantime medicine from France for the treatment of leishmaniasis in Pakistan.
» Full story
Eradicating polio through immunization

WHO responds to leishmaniasis in Khyber Pakhtunkhwa