7 August 2018 – Vaccination is a cost-effective method to improve the health status of a population and the EPI intends to prevent vaccine preventable diseases among 23-month-old children. However, immunization coverage remains low in the country and Pakistan continues to experience outbreaks of vaccine-preventable diseases. Investment in vaccination programmes will help to expand access to immunization and to reach the most vulnerable and lowest income sections of society.
» Full story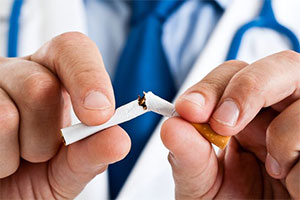 20 June 2018 – In a historical move, the Government of Pakistan has banned the sale of loose cigarette sticks with immediate effect. This landmark decision came through a Statutory Regulatory Order (SRO) Notification No SRO 415 (1)/2018, published on 3 April this year.
The Notification says that "No retail seller or any person shall sell, offer for sale or distribute any cigarettes unless they are in a packet of at least twenty cigarette sticks". The Government has already banned the sale of cigarettes to minors.
» Full story
Mobility support for the Expanded Programme on Immunization (EPI) in Pakistan

Government of Pakistan bans the sale of loose cigarettes