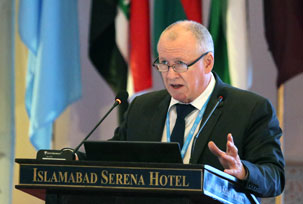 Islamabad, 10 October 2017 –A special session to review progress of the polio eradication program in WHO's Eastern Mediterranean (EMRO) region was held at the sixty-fourth session of WHO Regional Committee (RC) Meeting taking place from 9-12 October 2017 in Islamabad.
Addressing the Regional Committee on Tuesday 11 October, Chris Maher, manager of WHO's regional polio eradication unit in Amman, Jordan, provided a situation update in the EMRO region. According to Mr Maher, Pakistan and Afghanistan – the last two remaining polio-endemic countries of the region - currently have the most extensive systems for identifying polio cases and stopping the virus from spreading any further.
» Full story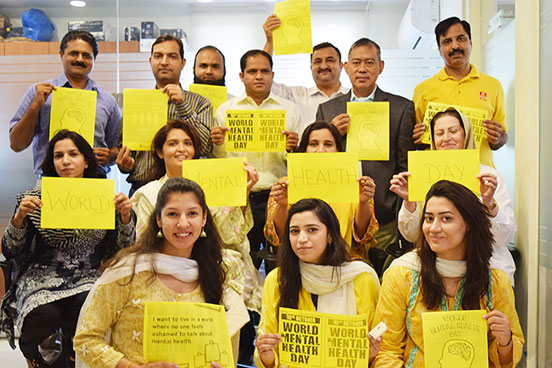 World Mental Health Day celebrations at WHO Punjab office. WHO/A.S.Khan

On World Mental Health Day observed every year on 10 October, World Health Organization (WHO) Pakistan marked the day with the support of psychosocial volunteers from United Nations Critical Incident Stress Management Unit (CISMU).
The aim of the event organized by WHO Provincial Office in Lahore was to raise awareness about mental health issues in the work place. The staff discussed the issues related to improving mental health of staff working in the field and signed a pledge to improve their well-being. According to a recent study, The Burden of Mental Disorders in the Eastern Mediterranean Region, 1990-2013, Pakistan and Afghanistan – are witnessing higher number of chronic disorders, including mental illness.
» Full story
Polio eradication discussed at the at the sixty-fourth session of WHO Regional Committee for the Eastern Mediterranean

WHO Pakistan celebrates World Mental Health Day