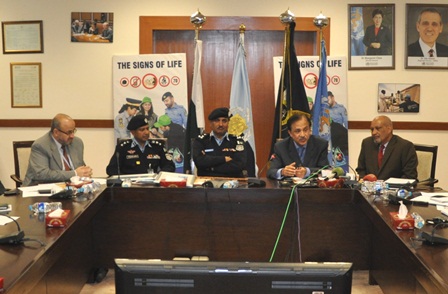 High-level dignatories pay tribute to the bravery of the Islamabad police force during the Sign of Life campaign award ceremony 4 December 2013 – An award and certificate distribution ceremony was held at the WHO country office in Pakistan today in recognition of the unconditional support extended by the Islamabad police to the recent campaign of conducting national immunization days, known as the Signs of Life campaign.
Attending the ceremony were the honorable Federal Secretary of Health Mr Imtiaz Inayat Elahi, Inspector General of Police Mr Sikander Hayat, Chief of Islamabad Territory Police Dr Sultan Azam Temuri, WHO Representative in Pakistan Dr Ni'ma Abid and Polio Team Leader Dr Elias Durry.
» Full story
1 October 2013 – Pakistan took its first step towards preventing and control noncommunicable diseases in the country by launching a 3-day training of health care workers in the WHO STEPwise approach to noncommunicable disease risk factor surveillance in the provinces of Punjab and Sindh in Lahore here today.
Launching the activity, Dr Tanveer Ahmed, Director General Health Services Punjab, described it as a major landmark, as Pakistan is suffering from a dual burden of communicable and noncommunicable diseases, and until now little attention has been paid to noncommunicable diseases. At the same time there is sufficient evidence to suggest that noncommunicable diseases accounts for around 55% of the overall deaths in the country.
» Full story
Signs of Life campaign award ceremony

Pakistan embarks on an initiative to prevent and control noncommunicable diseases