5 March 2020 – In light of the fifth COVID-19 case announced in Pakistan, the World Health Organization (WHO) in country is prioritizing the need for specialized health care for confirmed patients. Since January, WHO has supported over 20 COVID-19 reference hospitals across the country with various preparedness and response activities, including the distribution of medical equipment, awareness-raising materials and technical support.
One of these reference hospitals, the Pakistan Institute of Medical Services (PIMS) in Islamabad, has been receiving suspected cases and is treating two confirmed cases of COVID-19 to date. This week, the WHO Emergency Response Team, led by WHO Representative, Dr Palitha Mahipala, met with Dr Ansar Maqsood, the Executive Director of PIMS and his team. This meeting was held to review PIMS' readiness for COVID-19 and additional support needed. During the visit, WHO Representative, Dr Mahipala, praised Dr Maqsood and his team for ensuring readiness for suspected and confirmed cases of COVID-19.
"I commend all the health workers for their dedication and hard work during this emergency. WHO is committed to inform and guide the response with the most up-to-date data and information," Dr Mahipala added.
» Full story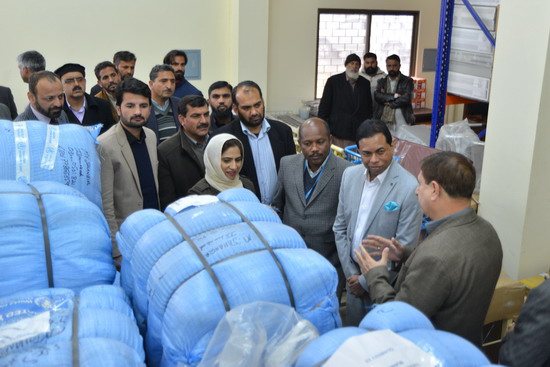 Islamabad, 1 March 2019 – Pakistani Health Authorities confirmed two cases of COVID-19. Both confirmed cases are from citizens who travelled to Islamic Republic of Iran for pilgrimage and subsequently returned to their hometowns of Karachi and Rawalpindi with initial respiratory symptoms of the virus.
» Full story
WHO scales-up support to COVID-19 reference hospital in Islamabad as three more cases are confirmed in Pakistan

WHO extends support to Pakistan as it confirms its first two cases of COVID-19