The Pakistan Transgender Empowerment Association aims to raise a voice for transgender community rights and issues at national level24 November 2017 – As part of a series of events organized to mark World AIDS Day on 1 December 2017, the Wajood, a community-based transgender community organization in Pakistan launched the Pakistan Transgender Empowerment Association: voice for social change and empowerment at a ceremony on 24 November 2017 in Islamabad.
Participants at the ceremony were welcomed and introduced to the work of the Association by Ms Bubbli Malik, Wajood Executive Director, and Ms Aisha. Ms Malik shared the objectives, mission and way forward of the Association, stating that the transgender individual in Pakistan faces multilayered social and legal discrimination.
» Full story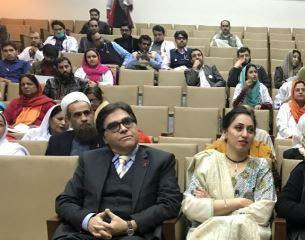 The awareness-raising seminar called on all parties to commit to making HIV testing and treatment available and accessible to all through combating stigma and discrimination in health care facilitiesThe Pakistan Institute of Medical Sciences organized an awareness-raising seminar on 1 December as part of a week-long series of events to mark World AIDS Day 2017.
The main objectives of the seminar were to assist health care providers in working collectively towards addressing HIV-related stigma and discrimination in health care facilities, and to devise joint key recommendations for action to end this discrimination.
» Full story
Pakistan Transgender Empowerment Association: voice for social change and empowerment

Pakistan Institute of Medical Sciences organizes awareness-raising seminar on HIV-related discrimination in health care facilities