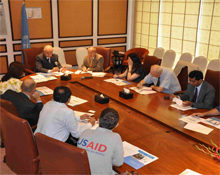 A meeting with WHO's donors WHO in Pakistan operates through a large network of partners, including governments of Member States, civil society organizations, academic research institutions, donor agencies, private for-profit sector, national stakeholders and the international community. WHO works with development and humanitarian partners in health to coordinate multi-agency efforts, advise on policy-setting, ensure quality, set standards, build capacity and share best practices in public health.
Major donors include:
Canadian International Development Agency (CIDA)
Central Emergency Response Fund (CERF)
Department For International Development (DFID)
European Commission for Humanitarian Aid Office (ECHO)
Government of Italy
The Office of U.S. Foreign Disaster Assistance (OFDA)
Government of the Russian Federation
United States Department of State, Bureau of Population, Refugees and Migration (BPRM).
WHO has a network of collaborating centres in Pakistan to support the implementation of its work and strengthen the institutional capacity of the country. Currently, there are five active WHO collaborating centres in Pakistan.