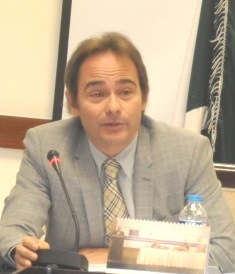 Dr Michel Thieren, WHO Representative in PakistanDr Michel Jean Jules Thieren, from Belgium, graduated MD in 1988 and tropical medicine in 1989. He began a field career in humanitarian action with Médecins Sans Frontières in refugee camps in Thailand and, as a humanitarian advisor in Central America with the Pan American Health Organization (PAHO). He then engaged in the peace processes in El Salvador and Guatemala (1991–1993).
He worked as a medical human rights observer with the UN Department of Peace-Keeping Operations in Haiti during the military regime (1993 and 1995), and joined the United Nations Office of the High Commissioner for Refugees (UNHCR) as a Humanitarian Coordinator for the Rwandan refugee crisis in Zaire (1994).
Prior to taking a Masters in Publich Health at the Johns Hopkins University (1997), Dr Thieren was Head of Field Office for northern Bosnia for WHO Regional Office for Europe (1995–1996). He has been a guest editorialist for OpenDemocracy.net (2005–2009), and has written many articles on medical neutrality, bioethics, and humanitarian affairs.
After several years at WHO headquarters, within the Departments of Humanitarian Action and of Epidemiology and Statistics, Dr Thieren went back to country work as Senior Programme Manager at the WHO Office in Cambodia (2008–2011), and later on as the PAHO/WHO Representative in Bolivia.
Dr Thieren was a board member of Medecins Sans Frontieres (1999–2000) and a member of WHO Ethical Review Committee (2006–2008).