On the occasion of World Hand Hygiene Day on 5 May 2013, WHO sensitized health care workers to the fact that hand hygiene is the single most important method of preventing and controlling infection in health care facilities.
Many studies have shown that the bacteria that cause hospital-acquired infections are most frequently spread from one patient to another on the hands of healthcare workers. Cleaning your hands before and after having contact with patients is one of the most important measures for preventing the spread of bacteria in healthcare settings to improve and promote best hand hygiene practices during the delivery of health care services.
» Full story
2 May 2013 – Mr Iqrar Ahmad, a polio vaccinator received a polio hero award from Dr Altaf Bosan from the Expanded Programme on Immunization and Dr Elias Durry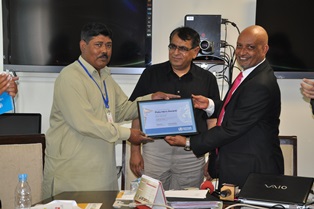 As Mr Iqrar Ahmad receives his award he says that his true moment of celebration will come when polio is finally eradicated from Pakistanof the WHO polio programme for an act of bravery in which he was physically attacked while carrying out vaccinations in a recent polio vaccination campaign.
Mr Ahmad said that he would continue to serve his homeland and that there was a long way to go but hopefully polio would be eradicated from Pakistan. "I have worked for almost 30 years now and will keep on working until we defeat polio. I am very thankful to my supervisors and the Organization for awarding me this certificate. 
Several incidents occurred in 2012 in which polio eradication workers were shot and killed and others injured while supporting the implementation and monitoring of vaccination campaigns.
» Full story
WHO "Save lives: Clean Your Hands" global campaign, 5 May 2013

Polio hero award