Countries commit to achieving 30% reduction in tobacco use by 2025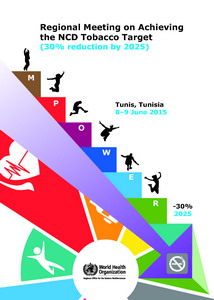 In 2014, the World Health Assembly adopted the global target of a 30% relative reduction in the prevalence of tobacco use by 2025, as part of the monitoring framework for noncommunicable diseases. Countries in the Eastern Mediterranean Region are taking steps to this effect, and are working with WHO to ensure adoption of the target at national level and to develop a road map to reach it.
A recent WHO publication on tobacco use trends in the world presents an alarming picture, especially for this Region. In 2012, compared with other regions, the WHO Eastern Mediterranean Region had the second highest average smoking prevalence among men (almost 40%). Moreover, this is projected to increase by 4% by 2025, compared to a projected decrease in tobacco use in all other regions, except Africa.
This Region is facing an emergency in tobacco control that requires all governments to gear up their efforts to control tobacco use. Immediate action is needed through applying the WHO Framework Convention on Tobacco Control, the six MPOWER actions for tobacco control and the proven NCD interventions known as "best buys".
Related links
WHO Framework Convention on Tobacco Control
MPOWER actions for tobacco control