WHO global tobacco report highlights insufficient progressin tobacco control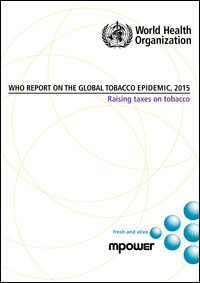 Countries of theRegion need to implement effective tobacco control measures at the highest possible level of implementationand to counter the influence of the tobacco industry at national level to save the 6 million lives lost every yearto tobacco use.
WHO's Report on the Global Tobacco Epidemic 2015 assesses thelevel of implementation of the six MPOWER measures to reduce tobacco use. These measures are intended to assist inthe country-level implementation of effective interventions to reduce thedemand for tobacco, contained in the WHO Framework Convention on TobaccoControl (WHO FCTC). The WHO FCTCprovides the foundation for countries to implement and manage tobacco control.
Tobacco taxation is an area of major focus of the report.Tobacco taxation is weak in countries of the Eastern Mediterranean Region. Thetobacco industry is manipulating prices with very little control from countries.Only two countries have taxes above 75% of the retail price which indicatesthat tobacco products are very cheap and are, accordingly, available to youngpeople and children. In a Region where tobacco use among young people in somecountries reaches 30%, the affordability of tobacco products is a major concernand immediate multisectoral action is crucial to reverse this situation.
Related links
WHO Report on the Global Tobacco Epidemic 2015
MPOWER measures to reduce tobacco use