World No Tobacco Day 2015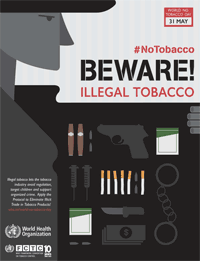 31 May 2015 – World No Tobacco Day takes place every year on 31 May. WHO has selected "stop illicit trade of tobacco products" as the theme of this year's Day. The campaign this year focuses on raising awareness about the harm caused by the illicit trade in tobacco products on countries and individuals, as well as the tobacco industry's involvement in this trade.
Illicit trade undermines tobacco control policies, and makes tobacco products more affordable and accessible, especially to young people and low-income groups. Ratifying, and making use of the Protocol to Eliminate Illicit Trade in Tobacco Products by all Parties to the WHO Framework Convention on Tobacco Control is crucial.