16th World Conference on Tobacco or Health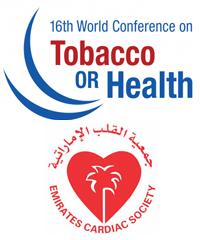 In just under two weeks, multisector stakeholders from around the world will gather in Abu Dhabi for five days to fight tobacco. From 17 to 21 March, panel discussions, symposia, posters, workshops and postgraduate courses will highlight the efforts being made thus far, the challenges faced and the solutions needed to scale up tobacco control.  
The Conference theme is "Tobacco and Noncommunicable Diseases". Tobacco is one of the four main risk factors for noncommunicable diseases, and is highly prevalent in the Eastern Mediterranean Region, and increasing among young people, with up to 36% of adolescents (13–15 years) using tobacco. Fortunately, these risk factors are modifiable.
Join the conference to learn more