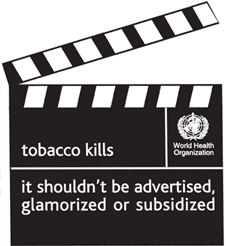 A $20 000 grant for projects to ban tobacco advertising in drama
WHO calls for proposals
The WHO Regional Office for the Eastern Mediterranean is pleased to announce its call for proposals for tobacco control grants. WHO will provide a $20 000 grant for new projects which encourage, mobilize and support legislative efforts to completely ban tobacco advertising, promotion and sponsorship in drama.
WHO invites proposals from nongovernmental organizations (NGOs) anywhere in the Region, working in tobacco control, health or development. Only four NGOs will be selected, each receiving a $5000 seed grant.
Proposals submitted must focus on: legislative actions; strengthening partnerships; lobbying and networking; and communication and media relations. Educational campaigns and school-based activities will not be considered.
WHO will begin accepting applications today, 22 September, 2014. The deadline for submission is 16 October, 2014.
WHO will notify the winners by email or telephone by 30 October, 2014. The winners will have six months or until 1 May, 2015 to complete their projects.