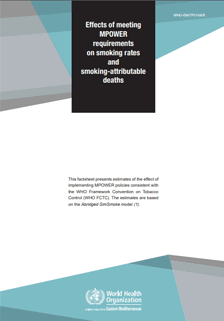 The purpose of these 20 country factsheets is to present estimates of the effect of implementing MPOWER policies consistent with the WHO Framework Convention on Tobacco Control (WHO FCTC). The estimates are based on the Abridged SimSmoke model. The Abridged SimSmoke model has been used to show the number of deaths from smoking and how implementation of MPOWER policies – tax increases accompanied by smoke-free laws, comprehensive marketing restrictions, comprehensive cessation programmes, strong health warnings and mass media campaigns – can reduce smoking prevalence by 2025, thus meeting the global target of a 30% reduction.
WHO introduced MPOWER in 2008 to help Parties fulfil their obligations under the WHO FCTC. MPOWER is a set of policies that build on the demand‐reduction measures of the WHO FCTC and have been proven to be effective measures to reduce tobacco use.
We are committed to fighting the tobacco epidemic, which is one of the biggest public health threats the world has ever faced, killing more than 7 million people a year. More than 6 million of those deaths are the result of direct tobacco use while around 890 000 are the result of non-smokers being exposed to second-hand smoke. Around 80% of the 1.1 billion smokers worldwide live in low- and middle-income countries (i.e. our countries), where the burden of tobacco-related illness and death is heaviest.