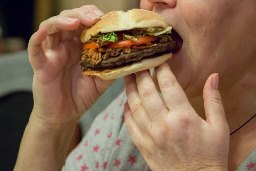 26 October 2015 -- The International Agency for Research on Cancer (IARC), the cancer agency of the World Health Organization, has reviewed more than 800 articles on the carcinogenicity of red and processed meats to humans. A Working Group of 22 Experts convened by the IARC Monograph Programme classified consumption of red meat as probably carcinogenic to humans, and processed meat as carcinogenic to humans.
An association was observed between certain types of cancer and red and processed meats. Processed meat was found to be particularly problematic as it is more widely consumed. The Working Group of Experts found that each 50 gram portion eaten daily increases the risk of colorectal cancer by 18%.
IARC is calling on governments and international regulatory agencies to assess the risks and benefits of meat consumption to health, so that populations are aware of the recommended daily intake and can thus protect themselves against cancer.
Read the IARC press release: IARC Monographs evaluate the consumption of red meat and processed meat
Related links