More than 1.7 million people in this region die from the 4 main NCDsNoncommunicable diseases (NCDs), commonly known as chronic or lifestyle-related diseases, are diseases that are not infectious to others. The 4 main NCDs are cardiovascular diseases (like heart attacks and stroke), cancers, chronic respiratory diseases (such as chronic obstructed pulmonary disease and asthma) and diabetes -- the world's biggest killers and a leading cause of death in the Region -- but other NCDs include: hypertension, Alzheimer's and osteoporosis.
Every year, more than 1.7 million people in the Eastern Mediterranean Region die from the 4 main diseases alone, and yet many of these deaths could be prevented through simple lifestyle-related changes and cost-effective interventions implemented by national governments.
Over half of NCD deaths are premature, occurring before the age of 70, thus affecting economically productive individuals, impoverishing families, and placing a considerable burden on health systems and national economies. NCDs thus can stifle the potential for socioeconomic development.
Future projections suggest that the 4 main NCDs will cause 2.4 million deaths in 2025 unless urgent action is taken. Most of the premature deaths from NCDs are largely preventable by enabling health systems to respond more effectively and equitably to the health care needs of people with NCDs, and influencing public policies in sectors outside health that tackle 4 shared modifiable behavioural risk factors — tobacco use, unhealthy diet, physical inactivity, and the harmful use of alcohol.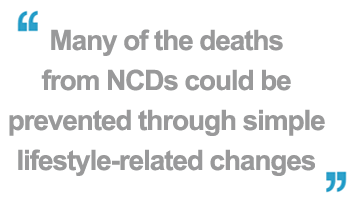 Read more about the 4 main NCDs
Cancer | Diabetes | Cardiovascular diseases | Chronic respiratory diseases
Read more about the 4 shared behavioural risk factors
Tobacco use | Unhealthy diet | Physical inactivity | Harmful use of alcohol
Related resources
Global Action Plan for the Prevention and Control of NCDs 2013–2020
Global status report on noncommunicable diseases 2014
Regional framework for action | French | Arabic (updated October 2015)
Voluntary global targets: global monitoring framework for NCDs