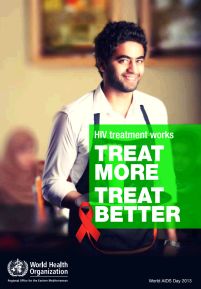 World AIDS Day campaigns
The HIV epidemic in the WHO Eastern Mediterranean Region has been expanding for the past decade. There were an estimated 330 000 people living with HIV in the Region at the end of 2014.
Although overall HIV prevalence in the Region is still low at 0.1%, new infections reached 42 000 in 2014. The rising number of new infections makes it the region with the fastest growing HIV epidemic in the world. At the same time, AIDS-related deaths have been increasing, reaching an estimated 15 000 in 2014. The regional HIV epidemic reflects the diversity of the Region with different populations being most affected in different places. Countries in the Region are increasingly recognizing the importance of having better data on these varied epidemics.
While only a few years ago there was very little reliable information, today most countries have evidence confirming concentrated epidemics in one or more most-at-risk populations. This includes:
Concentrated HIV epidemics among injecting drug users in Afghanistan, Egypt, Islamic Republic of Iran, Libya, Morocco and Pakistan
HIV epidemics increasingly noted among men who have sex with men, including in Egypt, Sudan and Tunisia.
Elevated HIV prevalence among in female sex workers Djibouti, Morocco and Somalia.
Evidence of onwards transmission of HIV from male migrant workers to their spouses upon return to their home countries.