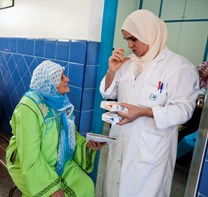 Proper case management will lead to a TB-free Region.
Tuberculosis (TB) is a major public health concern in the WHO Eastern Mediterranean Region. The Stop TB programme aims to halve the regional burden of TB by 2015 and works towards its eventual elimination.
Though the incidence of TB in the Region declined at a rate of less than 1% per year from 1990 to 2010, a significant decline in regional prevalence and mortality rates has been reported. In 2010, the Region achieved the global target of halving TB mortality compared to 1990.
Reductions in prevalence have been considerable since 1990, and appear to have accelerated since 2000. Nonetheless, current forecasts suggest that the Region needs to do more to achieve the 2015 target of halving prevalence compared to 1990.