WHO Regional Adviser for Nutrition recognized as food fortification champion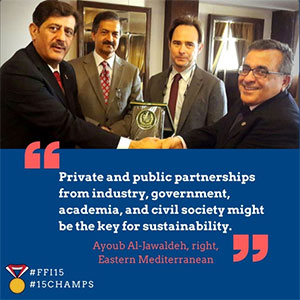 Dr Ayoub Al-Jawaldeh (right), the Regional Adviser for Nutrition, is one of the Food Fortification Initiative's champions. Photo: Food Fortification Initiative25 October 2017 – To celebrate its 15 year anniversay, the Food Fortification Initiative has honoured 15 fortification champions from different sectors and different parts of the world. From WHO's Regional Office for the Eastern Mediterranean Dr Ayoub Al-Jawaldeh, the Regional Adviser for Nutrition, is one of these champions.
He claims that private/public partnerships from industry, government, academia, and civil society might be the key for sustainability. To achieve impact, programme managers are using fortification vehicles that are consumed by the nutritionally vulnerable and add bioavailable fortificants. Fortifying at adequate levels will reduce dietary gaps and micronutrient deficiencies.
Read the full interview with Dr Al-Jawaldeh