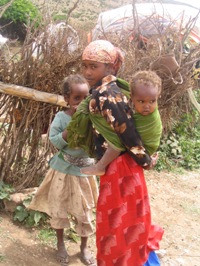 Malaria exacts a heavy burden on the poorest and most vulnerable communities. Photo credit: WHO
Of 12 countries with ongoing malaria transmission in 2000, seven countries achieved more than 75% decrease in case incidence between 2000 and 2013. Saudi Arabia reported only 34 indigenous cases in 2013. Iraq continues to report zero local cases.
In 2013, about 280 million people in eight countries in the Region were at some risk of malaria, with 104 million at high risk. Six countries have areas of high malaria transmission (Afghanistan, Djibouti, Pakistan, Somalia, Sudan and Yemen); transmission is focal in the Islamic Republic of Iran and Saudi Arabia. Most cases are due to P. falciparum except in Afghanistan, Islamic Republic of Iran and Pakistan, where P. vivax predominates.
The number of confirmed malaria cases reported in the Region decreased from two million in 2000 to one million in 2013. Two countries accounted for 84% of cases in 2013: Sudan (57%) and Pakistan (27%). Seven countries achieved >75% decrease in the incidence of microscopically confirmed cases between 2000 and 2013 (Afghanistan, Iran [Islamic Republic of], Iraq, Morocco, Oman, Saudi Arabia and the Syrian Arab Republic). Iran (Islamic Republic of) and Saudi Arabia reported only 519 and 34 local cases, respectively, in 2013 (50% and 30% decrease respectively compared to 2012). Iraq has not reported any indigenous cases since 2009. An assessment of trends was not possible for Djibouti, Pakistan, Somalia, Sudan and Yemen, owing to inconsistent reporting.
In addition to Iraq, three countries are in the prevention of reintroduction phase (Egypt, since 1998; Oman, since 2004; and Syrian Arab Republic, since 2005). Morocco was certified as free of malaria in 2010. Egypt reported 22 locally acquired cases in a recent outbreak (May–June 2014) in a village 20 km north of Aswan. The outbreak was successfully controlled using preventive measures, prompt treatment, and active case detection and case investigation of foci covering 16 villages. Oman has been battling small outbreaks related to importation of parasites since 2007; the country reported 1440 imported and 11 introduced P. vivax cases in 2013. The Syrian Arab Republic reported 22 imported cases in 2013 (including 21 P. falciparum).