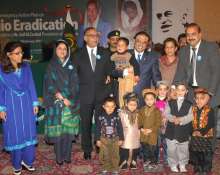 Ex- President Asif Ali Zardari with orphaned children after administering them polio drops during a special ceremony at the aiwan-e-sadr on January 24, 2011Pakistan has come a long way in its struggle to eradicate poliomyelitis (polio). In the early 1990s, the annual incidence of polio was estimated at more than 20 000 cases a year.
Since its initiation in 1994, the national polio eradication programme has made major strides in reaching children with immunization in all parts of the country, resulting in a decrease in the number of cases to a low of 28 cases in 2005.
However, since then progress has been hampered by instability and war in border areas with Afghanistan, limiting safe access to children.
The programme has also faced managerial problems in certain areas, with the result that children in key high-risk areas do not receive adequate doses of oral poliovaccine.
As a result of these factors, the number of cases of polio increased very high in 2011 reached 198. 
High-risk areas
The high-risk areas comprise four zones: Federally Administered Tribal Areas; Khyber Pakhtunkhwa province; the Quetta block in Baluchistan; and the Karachi towns of Gadap, Baladia and Gulshan E Iqbal.
More than three quarters of cases are reported from these high-risk districts. Most wild viruses reported from cases in other areas are genetically linked to those of these high-risk areas.
Polio eradication
To address this situation, considerable effort has been made by the Pakistani polio eradication programme, with the support of WHO. This includes:
introduction of bivalent oral polio vaccine
development of comprehensive district-specific plans
improvements in the monitoring system through introduction of finger-marking and independent monitoring
intersectoral collaboration in polio eradication.
At the same time, emphasis is placed on maintaining a comprehensive surveillance system supported by a well-functioning polio laboratory.
Related news
Pakistan's polio religious leaders initiative
Government of Pakistan, Canadian High Commission and World Health Organization collaborate to collect comprehensive information on disabilities in Pakistan
WHO does not directly recruit polio health workers
WHO urges Government to ensure safety of polio vaccination teams
Polio eradication worker shot and killed in Karachi, Pakistan
Polio virus has been found in sewage water in karachi
Related topics