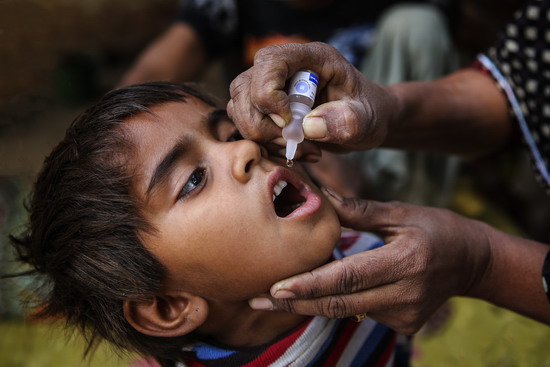 A child receiving 2 drops of polio vaccine in Sindh, Pakistan. Photo: WHO Pakistan/A. Zadi
Pakistan is one of only 2 remaining countries in the world with ongoing wild poliovirus transmission, along with Afghanistan. WHO, with UNICEF and other key partners of the Global Polio Eradication Initiative, supports the Government of Pakistan in polio eradication efforts to ensure that Pakistan achieves polio-free status.
Pakistan has come a long way in its struggle to eradicate polio. In the early 1990s, the annual incidence of polio was estimated at more than 20 000 cases a year. Since its initiation in 1994, the national polio eradication programme has made major strides in reaching children with immunization in all parts of the country. The current polio epidemiology remains promising.
The number of cases has declined from 306 in 2014 to 54 in 2015, 20 in 2016, 8 in 2017, and 12 in 2018. However, in 2019 the programme witnessed a significant spread of the virus and reported 144 polio cases across all provinces. So far in 2020, 7 cases have been reported from various provinces.
Government leadership and emergency operations centres
The work with partners as "one team under one roof" under the leadership of the Government at emergency operations centres has been essential in ensuring improvements across all aspects of programme operations, risk management and oversight activities. Thanks to the centres, the programme is now further supported by the availability of high-quality data and comprehensive, real-time risk assessment and monitoring, resulting in better campaign quality and better response to outbreaks.
Addressing remaining challenges
Despite the record low number of new cases, a strong surveillance system indicates the virus continues to circulate in Pakistan and remains a threat to children. The programme is systematically addressing and responding to these challenges by focusing on reaching missed children and continuously improving campaign quality.
To reach the ultimate goal of polio eradication, Pakistan's polio eradication programme is implementing an intensive vaccination campaign schedule focused on operational improvements to achieve high population immunity in the core reservoirs of Karachi, Khyber-Peshawar and Quetta Block, while keeping the rest of the country polio free.
Related videos
Related news
On World Polio Day, WHO Pakistan acknowledges the contribution of the United Arab Emirates to polio eradication efforts
Pakistan's polio fighters lend a hand in the battle against measles
Japan to provide substantial support to Regional Polio Laboratory
Bahawalpur lady health worker receives Polio Hero award