Pakistan's health care system is a  three-tiered health care delivery system: primary, secondary and tertiary care.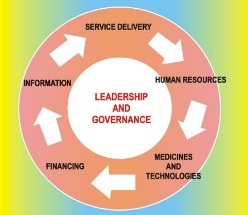 Health system strengthening mechanism Starting at grass roots level, health houses provide community health care services through lady health worker and are connected to basic health units with an upward referral pathway to rural health centres, tehsil hospitals and district hospitals. There are also well-equipped tertiary level teaching hospitals.
However, this extensive health care infrastructure has not been translated into optimal health care delivery due to a number of issues related to the health system. This includes the poor motivation of the health workforce due to lack of good career structures and work environments, maldistribution of resources between urban and rural areas, and the lack of a national human resources for health policy.

Pakistan spends only 0.5% of its gross domestic product (GDP) on health, which is very low. This leads to an inability of the government to provide the required medicine and laboratory support to health care delivery resulting in an out-of-pocket expenditure on health of around 80%.
Futhermore, the health information system does not produce the quality data required for planning.
Key areas of work of the health system strengthening cluster of programmes in Pakistan
Health policy and strategic planning
Health workforce (human resource development)
Health service delivery (including lady health workers programme)
Essential medicines and pharmaceutical policy
Gender in health and development
Related Stories
WHO Pakistan biennial beport 2012 - 13 [Pdf 2.62Mb]
Social Determinants of Health Progress in Pakistan [Pdf 84.2Kb]