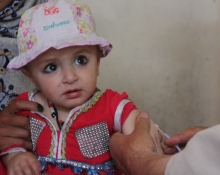 Routine immunization in progressThe Expanded Programme on Immunization (EPI) was launched in Pakistan 1978 to protect children by immunizing them against childhood tuberculosis, poliomyelitis, diphtheria, pertussis, tetanus and measels.
The programme also vaccinates pregnant women with tetanus toxoid vaccine to protect the new born from neonatal tetanus.
With support from the Government of Pakistan and development partners, the programme has added hepatitis B (Hep B) and Haemophilus influenzae type B (Hib) vaccinations to its childhood immunization schedule.
In 2002, the programme introduced hepatitis B vaccine with support from the Global Alliance for Vaccine and Immunisation (now called the GAVI Alliance).
In 2006, a tetravalent combination vaccine was introduced replacing separate diphtheria, tetanus and pertussis (DTP3) and hepatitis B vaccines. This was later switched in 2008 to the pentavalent (DTP-Hep B-Hib) vaccine with the addition of the new Hib vaccine.
Now a child needs only five visits during the first year and one visit during the second year of his/her life to complete the vaccination with four antigens against eight dreadful diseases.
Programme development
Pakistan has the approval of the GAVI Alliance for support for pneumococcal conjugate vaccine, which is expected to be introduced in the routine immunization programme by mid-2012. This new vaccine will protect children from pneumonia and meningitis due to pneumococcal infection.
The programme also plans to introduce rota virus vaccine in 2013, which will prevent diarrhoea due to rotavirus.
The new vaccines may together avert 17% of childhood mortality in Pakistan and thus help in achieving Millenium Development Goal 4 on reducing child mortality.
Safer immunization
The programme has adopted new technology to make immunization safer and more client compliant. Since 2002, to prevent the risk of bloodborne diseases, the programme has been using auto-disable syringes for all immunization injections and safety boxes for proper disposal of sharps waste.
Programme objectives
The programme's aim is to reduce mortality and morbidity resulting from the eight EPI target diseases by immunizing children aged from 0 to 11 months and pregnant women.
The specific objectives of the programme are:
interruption of polio virus by 2012
elimination of neo-natal tetanus by 2015
elimination of measles by 2015
reduction of diphtheria, pertussis and childhood tuberculosis to a minimum level so that they do become a public health problem
control of other diseases by introducing new vaccines in EPI as and when they become available.
using EPI as a spearhead for promoting other primary health care activities
integrating EPI into primary health care.
Current situation
Despite significant efforts by the government and its partners, Pakistan's immunization indicators have yet to reach the expected benchmarks. The key goals of polio eradication, and measles and neo-natal tetanus elimination, have not been achieved.
Routine vaccination coverage is still suboptimal for achieving the desired goals. Poor routine coverage is also evidenced by the occurrence of numerous outbreaks of measles, pertusis and diphtheria in different parts of the country.
Regional vaccine preventalble diseases and immunization programme