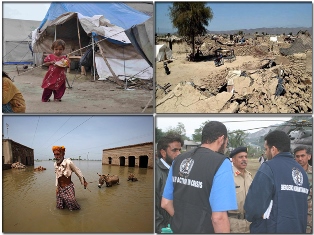 WHO's response in crisesPakistan is vulnerable to a range of natural hazards including earthquakes, droughts, floods, landslides, avalanches, cyclones and storms, tsunami, glacial lake outbursts, river erosion, epidemics and pest attacks.
Human-induced hazards that threaten the country include transport, industrial and nuclear accidents, oil spills, urban fires, civil conflicts and internal displacements of communities due to multiple factors.
The high priority hazards, in terms of the scale, impact and frequency of occurrence, include earthquakes, droughts, flooding and transport accidents. These can cause widespread damage and loss.
Emergencies, such as floods, earthquake, drought and conflict, can lead to displacement and sudden temporary relocation. This leads to poorer living conditions, increased risk of communicable diseases and epidemic outbreaks, malnutrition, physical and mental stress due to insecurity, and inadequate primary health care services.
WHO leads response to emergencies in Pakistan with national authorities and UN partners
The Pakistan health cluster, under the leadership of WHO, made remarkable efforts in response to the floods. Urgently needed relief assistance was delivered by the Government of Pakistan, United Nations agencies and nongovernmental organizations, a large relief operation had ensured the provision of basic humanitarian assistance to most affected areas covering the major needs.
Health interventions included:
provision of life-saving drugs to health facilities and mobile clinics operated by health cluster partners
environmental health activities
resource mobilization
maternal, neonatal and child health interventions
disability-related and rehabilitation activities
disease surveillance.
One of the major roles of WHO during the emergency, relief and early recovery periods was to ensure that risks related to the living environment of internally displaced persons and host communities were recognized and properly managed. This was to ensure the prevention and control of preventable diseases. It included ensuring water supply to health care facilities and safe waste disposal.
Internally displaced persons crisis, North Waziristan 2014
Security-related developments in North Waziristan Agency (NWA) forced thousands of people to leave their homes and move to safer places. As of 16 July 2014, approximately 992 649 persons (73% of the total population) have been displaced. they have moved to the districts of Bannu, Lakki Marwat, Karak, Dera Ismail Khan and Kohat in Khyber Pakhtunkhwa province; Bhakkar and Fateh Jang in Punjab province; and other parts of the country, as well as to Afghanistan since 22 May 2014.
Visit internally displaced persons crisis pages 
WHO supports the health response to the Pakistan earthquake
In 24 September 2013,  an earthquake of 7.7 magnitude took place north-northeast of Awaran in the province of Balochistan in south western Pakistan. At least 825 people were killed and hundreds more were injured. On 28 September, another earthquake with a 6.8 magnitude hit Pakistan at a depth of 14.8 km, killing at least 22 people. Awaran district was declared a state of emergency after the earthquake destroyed approximately 90% of the infrastructure, including shops, houses and schools.
Vist the earthquake in Awaran Balochistan page
WHO response to drought in Tharparker Sindh

Tharparkar is situated in the southern part of the country, with a population of 1 226 800. On its north is Umer-kot districe, to the west is Mirpur Khas and Badin districts, while to the east it borders Rajistan (India) and south Gujrat (India). Tharparkar comprise four taluka (Mithi, Islam-Kot, Chachro, Nagarparkar), containing three taluka hospitals, two rural health centres, 32 basic health units and a district health centre with a 24-hour nutrition stabilization centre in its paediatrics ward.
Visit the drought in Tharparker Sindh Page
Monsoon rains/floods (2010–2013)
In July 2010, following abnormally heavy monsoon rains, the Indus river rose above its banks and flooded the surrounding areas. By mid-August, the heaviest flooding had moved southward along the Indus river from the already severely affected northern districts in Khyber Pakhtunkhwa to the densely populated areas of western Punjab and the southern province of Sindh.
In August–September 2011, heavy monsoon rains in Sindh, eastern Balochistan and southern Punjab caused considerable damage; an estimated 434 civilians were killed, with 5.3 millio­n people and 1 524 773 homes affect­ed. The districts affected included Badin, Mirpur Khas, Thatta, Tando Muhammad Khan, Tando AllahYar and Tharparkar.
In early September 2012, heavy monsoon rains in Khyber Pakhtunkhwa, Upper Sindh, Southern Punjab and Balochistan regions resulted in flooding incidents across Pakistan. Populations in southern Punjab, northern Sindh, and eastern Balochistan were the worst affected. The humanitarian community in Pakistan agreed the need to shift the priorities of the humanitarian response to early recovery needs, in particular, focusing on livelihood needs, while also striving to meet unmet, critical relief needs.
In August 2013, heavy monsoon rains experienced have triggered flash floods and caused widespread losses and damage across the country. The National Disaster Management Authority reported that the monsoon rains affected more than 1.4 million people, 827 000 acres of crops, and damaged or destroyed more than 45 000 houses. Punjab and Sindh provinces were most affected. Government authorities, supported by humanitarian partners, provided assistance in the flood-affected areas.
Related links
Regional programme on emergency preparedness and humanitarian action
.