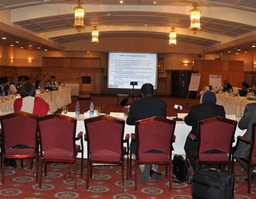 Participants of the EPI workshopA four-day workshop was organized by the Expanded Programme on Immunization (EPI), Government of Pakistan, in collaboration with World Health Organization, in a local hotel in Islamabad from February 18 to 21, 2013, to review the current status of EPI, its performance in 2012, and the development of a plan of action for 2013–2014.  
The objectives of the workshop were to: review the performance of EPI in 2012 at national, provincial and area level, coverage of immunization, implementation of EPI plan of action for 2012, development and refining of the plan of action for 2013–2014 and building a consensus between the stakeholders on the way forward.
The training workshop was attended by EPI managers from all the provinces, including Gilgit Baltistan, Azad Jammu and Kashmir, Islamabad Capital Territory and Health Directorate-Capital Development Authority Islamabad.