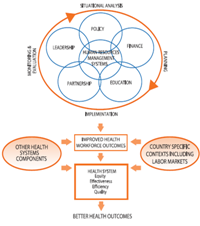 The diagram above illustrates the elements of the human resources for health action framework and how they link to better health. Click for a larger view The HRH Action Framework is designed to support governments and health managers to develop and implement strategies to achieve an effective and sustainable health workforce.
By using a comprehensive approach, the Framework will support countries in addressing staff shortages, uneven distribution of staff, gaps in skills and competencies, low retention and poor motivation, among other challenges.
This framework was developed by representatives of multilateral and bilateral agencies, donors, partner countries, and the academic community at a technical consultation sponsored by WHO and USAID.
Related links