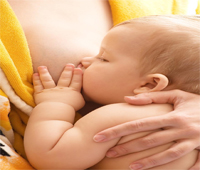 Infants should be exclusively breastfed for the first six months of life to achieve optimal growth, development and health. Thereafter, to meet their evolving nutritional requirements, infants should receive nutritionally-adequate and safe complementary foods while breastfeeding continues for up to two years or beyond. Special attention and practical support is needed for feeding in exceptionally difficult circumstances.
WHO regional policy for breastfeeding is to implement the Global Strategy for Infant and Young Child Feeding by protecting, promoting and supporting breastfeeding and timely, adequate and safe complementary feeding of infants and young children. The circumstances where specific recommendations apply include: infants less than six months of age who are malnourished, low birth-weight infants, infants and children in emergencies, infants born to HIV-positive women and children living in special circumstances, such as orphans and vulnerable children or infants born to adolescent mothers.
Many countries in the WHO Eastern Mediterranean Region report high rates (>60%) of early initiation of breastfeeding of infants and more than 60% of infants continue to be breastfed at one year. However, rates of exclusive breastfeeding seem to have declined, with only 40% or less of infants under six months in countries of the Region being exclusively breastfed.