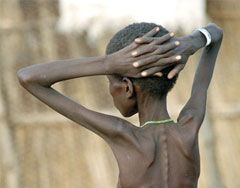 Photo credit: UN Photo/Eskinder Debebe
Malnutrition remains one of the most serious health problems in the Eastern Mediterranean Region. It is the single biggest contributor to child mortality: 15% of the global burden of newborn and child mortality occurs in countries of the Region. Futhermore, the regional burden of disease associated with inadequate nutrition is growing.
The Region is experiencing unprecedented demographic and nutritional changes, with a related shift in the disease burden. While the problem of undernutrition continues to exist, diet-related chronic diseases resulting from overweight and obesity are increasing. This nutritional transition is leading to a "double burden" of disease that is having a negative impact on the health systems of the Region. To address these problems, systematic nutritional surveillance systems are needed that produce accurate and up-to-date information.