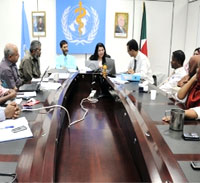 The WHO Regional Office submits a programme budget every two years to the World Health Assembly for approval. The submitted budget outlines the directions and priorities of the Organization for the biennium with a proposed budget for each strategic objective, WHO country office and division within the Regional Office.
Programme budget development
Once the programme budget has been approved, the planning, monitoring and evaluation programme then begins assessing regional programmatic needs while taking into account managerial priorities, including: scaling up the impact of WHO's work at country level; reviewing and aligning the distribution of functions across the Organization; and better aligning resources and implementation across strategic objectives and levels of the Organization.
The process of developing a programme budget ensures a timely and critical contribution towards achieving the Millennium Development Goals, improves WHO performance at country level; contributes to greater health governance and better responds to Member States' requests for greater transparency and accountability.
The regional programme budget is implemented through operational plans prepared by countries and the Regional Office.
Operational planning
After the World Health Assembly approves the programme budget, budget allocations are provided to start the operational planning exercise, in which national priorities are reflected as an outcome of the Country Cooperation Strategy. Operational planning takes place within divisions and programmes of the Regional Office, and for all countries of the Region. Operational planning in countries is an important exercise called "Joint Programme Review and Planning Mission (JPRM)". The JPRM is a consultative process between WHO and governments on priority areas of cooperation and the expected results of collaborative programmes. It aims at ensuring that collaborative programmes are in line with national health policies and will strengthen national capacity to achieve health goals and aspirations. During this exercise, operational plans for the various collaborative programmes are developed listing in detail country outputs and the products and services to be delivered during the biennium.
General Programme of Work
The 11th General Programme of Work provides the framework for the financial resources and expenditures of WHO for the period 2006–2015.
Medium-term strategic plan
The medium-term strategic plan 2008–2013 defines strategic objectives for WHO and its Member States over a period of six years. The 13 strategic objectives and related Organization-wide expected results which make up the medium-term strategic plan guide the preparation of three biennial programme budgets and operational planning for each biennium.
Related links
Medium-term strategic plan 2008-2013: interim assessment report [2.58Mb]
Medium-term strategic plan 2008-2013: interim assessment summary [406kb]
Eleventh general programme of work 2006-2015 [3.6Mb]