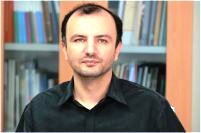 Dr Arash Rashidian, Director, Information, Evidence and Research
Vision
The Department of Information, Evidence and Research envisions a Region where the Region's health decisions, development and innovation are based on verifiable knowledge, evidence and reliable information.
Mission
The overall mission of the Department of Information, Evidence and Research is to strengthen the capacity of Member States to generate and utilize reliable information, evidence, innovation and knowledge for the development of health systems and for improving population health outcomes.
Bibliography
Dr Arash Rashidian (Islamic Republic of Iran) was appointed as Director, Information, Evidence and Research, effective from 14 May 2015. 
Prior to joining WHO, Dr Rashidian worked as Professor of Health Policy and Management at the School of Public Health and the Deputy Chancellor for Public Health and Primary Care, Tehran University of Medical Sciences. 
He has a medical degree from the Tehran University of Medical Sciences, a PhD from the University of York and a research fellowship at the London School of Hygiene and Tropical Medicine. 
Dr Rashidian has experience in conducting consultancies in the different regions; Europe, Central Asia, Middle East, Africa and South East Asia. 
His main interests are evidence-based health policy, health systems reform and financing, quality improvement and changing professionals' behaviour. His expertise is in understanding health systems in high-income and low- and middle-income countries, and applying different quantitative, qualitative and review research methodologies for answering health policy and health services questions.
Dr Rashidian has published more than 100 articles in prestigious journals and presented in international conferences.