Universal health coverage:
everyone, everywhere
Media panel discussion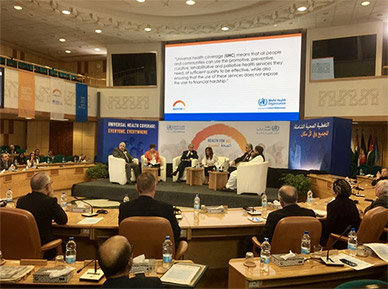 On 4 April 2018, the WHO Regional Office will host an hour and a half panel discussion on UHC and discussions will focus on vulnerable and refugee populations. The panel will share global and regional success stories highlighting financial protection, population coverage and service coverage. It will also emphasize the need for private and civil society partnerships. The event will serve as a reminder to countries of the commitments they made when they adopted the SDGs and committed to taking concrete steps to advance #HealthForAll.
The panel discussion will be moderated by a notable media personality from the Region. Attendees will include renowned technical experts, representatives of ministries of health, civil society and main United Nations partners, embassy representatives, the media, academia and WHO staff.
Follow the live stream on 4 April of a media panel discussion on #HealthForAll at 11:00 am