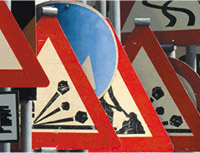 The Global status report on road safety 2013 reveals that road traffic crashes globally and in the Eastern Mediterranean Region remain a major public health concern. Despite some progress made in a number of countries, road traffic crashes continue to claim over1.24 million lives worldwide every year.
The report presents data from 182 countries across the world, including 19 countries of the Eastern Mediterranean Region. The Eastern Mediterranean Region is responsible for 10% of the world's road traffic deaths with a fatality rate of 21.3 per 100 000 population, compared to a global rate of 18.03 per 100 000. The Region has the second highest fatality rate after the African Region.
This report serves as a baseline for the Decade of Action for Road Safety 2011-2020, declared by the UN General Assembly. Made possible through funding from Bloomberg Philanthropies, this is the second in a series of Global status reports to monitor progress across the Decade.