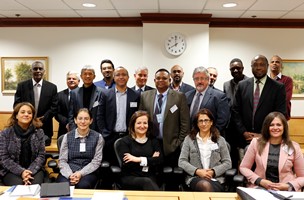 The regional partner institutions in the Global Outbreak Alert and Response Network (GOARN) met with WHO's Regional Office for the Eastern Mediterranean in Cairo last week to discuss plans and activities for the coming year.
The meeting, held from 14 to 15 December, brought together WHO and GOARN partners to discuss GOARN guiding principles, mandate and standard operating procedures (SOPs) for information, data sharing and deployment.
GOARN was established in 2000 to provide technical support to WHO Member States in the event of a human health emergency due to threats such as disease outbreaks, food safety, chemical toxins, zoonosis, natural and man-made disasters. In the post-Ebola world, there is a greater need to reinforce GOARN's position in outbreak and emergency response initiatives.
The meeting was fruitful in engaging partners and identifying ways to enhance GOARN in the Region. GOARN partners addressed the need to formalize relationships, including having a letter of agreement between member institutions and WHO. Partner institutions also agreed to play a more active role in fostering GOARN activities.
GOARN aims to improve the coordination of international assistance in support of local efforts through partners; it comprises over 400 technical institutions and networks across the globe including medical and surveillance initiatives, regional technical networks, networks of laboratories, United Nations organizations, international humanitarian nongovernmental organizations and national public health organizations.