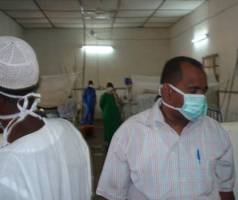 The WHO assists Member States in reducing dissemination of health care associated infections. Photo credit: WHOHealth care-associated infections (HAIs) are considered the most frequent adverse events that threaten patient safety around the world. Around 5% to 15% of patients admitted to acute care hospitals in developed countries acquire HAIs at any given time. The risk of acquiring infection is 2 to 20 times higher in developing countries.
HAI situation in the Region
The WHO Eastern Mediterranean Region has one of the highest frequencies of HAIs in the world. The prevalence of HAIs in several countries in the Region is reported to vary from 12% to 18%. The burden of transmissible infections among health-care workers due to unsafe health-care practices is also considerably high in the Region.  
Although a substantial proportion of infections and deaths attributable to HAIs can be prevented and low cost interventions for infection prevention and control are available, progress in this field remains slow. This is due to several factors including:
poor compliance of health-care workers with standard infection control practices
risky behavioural practices of patients and visitors in health-care settings
poor understanding and implementation of infection prevention and control programmes in health care
lack of programme coherence, when it exists, with other public health services and interventions. 
Objectives
The objective of the HAI prevention and control programme area is to establish and strengthen a comprehensive national infection prevention and control approach in the Region through the provision of appropriate resources. 
Activities
The current activities of the programme include assessment of national infection prevention and control programmes in the Region in order to guide and advise countries in building their infection prevention and control policies and programmes in accordance with evidence-based practices.
Other key activities include:
building human resources capacity for infection prevention and control in health care
developing appropriate policies and strategies for personal protection measures of all health-care providers, including policies on immunization, as appropriate
standardizing surveillance methods and techniques for generating reliable estimates of burden of HAIs and antimicrobial resistance
developing recommendations on best infection prevention and control practices associated with health care for patients at high risk of nosocomial infection.
Relevant health topics
Related documents
Core components for infection prevention and control programmes
Infection prevention and control of epidemic- and pandemic-prone acute respiratory diseases in health care
More information resources on infection control
Related links
Global Alert and Response (GAR)
Global Infection Prevention and Control Network (GIPC Network)