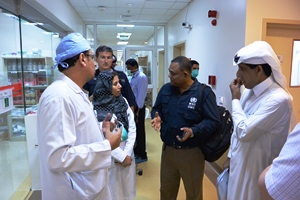 Middle East respiratory syndrome coronavirus (MERS-CoV) is a novel coronavirus which was first identified in a patient in Saudi Arabia in September 2012.
In a handful of patients, particularly those with chronic underlying health conditions, the virus may cause severe symptoms which require intensive care in hospital.
Common symptoms are acute respiratory illness with fever, cough, shortness of breath and breathing difficulties. Most patients present with viral pneumonia. Many also present with gastrointestinal symptoms, including diarrhoea.
In the Eastern Mediterranean Region, a number of countries (Egypt, Jordan, Kuwait, Lebanon, Oman, Saudi Arabia, Tunisia, Qatar, United Arab Emirates and Yemen have so far reported laboratory-confirmed cases of MERS-CoV. The source of human infection, remain unknown. The current scientific evidence, however, suggest that the virus is circulating indromedary camels but the route of transmission of virus from camels to humans remain unknown although direct and indirect contact with camels is presumed to a risk factor for transmission of virus in humans. 
Communicable diseases programme
Latest updates
Information resources