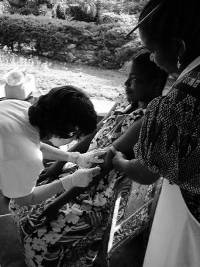 WHO reacts to countries' immediate needs and initiates sustainable measures such as the development of laboratory networks and active surveillance systems. Photo credit: WHO 
The regional strategy for communicable disease surveillance, forecasting and response depends on national, regional and global surveillance and containment plans for emerging and re-emerging disease threats. 
The main strategic approach is to establish a well coordinated action-oriented surveillance system to ensure that each Member State has the capacity to define, detect and respond to the threat to public health of communicable diseases.
The surveillance, forecasting and response programme provides tailored support to the 23 Member States in the Region through technical programmes to achieve WHO's global strategic objectives for 2008–2013. These objectives were endorsed by the World Health Assembly, WHO's governing body.
Related links
Regional Committee resolutions and technical papers