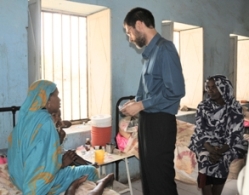 Dr Anshu regularly visits different states to look into the progress of WHO activities. Here he is visiting a leishmaniasis centre in the village of Bazoora, Gedaref state. Dr Anshu Banerjee has been the WHO Representative in Sudan since 24 November 2010. As WHO Representative, he is responsible for all aspects of WHO collaborative activities in the country and establishes and maintains close coordination with the highest levels of the Government of Sudan, Federal Ministry of Health and related agencies. He leads a team of about 260 national and international staff working for a healthier Sudan.
With over 20 years of progressive experience in public health, Dr Banerjee's background ranges from surveillance and field epidemiology to strategy, policy and planning of health service delivery in normative and emergency (man-made and natural) settings.
Dr Banerjee holds a PhD in tuberculosis control from the University of Amsterdam, Netherlands, a Masters in Public Health for Developing Countries from the London School of Hygiene and Tropical Medicine, United Kingdom, and a medical degree from the University of Antwerp, Belgium.
He has served WHO in various capacities in several countries, including Albania, India, Indonesia, Malawi and Myanmar.
As a young public health officer, Dr Banerjee became the Country/Medical Coordinator for Médecins Sans Frontières, Holland, in 1989 and served the organization up to 1993.
He worked from 1993 until 1998 as the District Health Officer in Ntcheu district in Malawi and was simultaneously a member of the programme management team of the national tuberculosis programme, which was part of a secondment scheme by the Dutch Directorate General for International Cooperation of the Ministry of External Affairs.
Dr Banerjee first joined WHO as Surveillance Officer for the Immunization Programme in the WHO South-East Asia Regional Office between 1999 and 2000.
He then joined the UK Department for International Development in India from 2000 to 2003 to return to WHO as a Medical Officer for the Expanded Programme on Immunization in WHO, Myanmar, from 2003 until 2005.
In 2005, he was assigned to lead the WHO Banda Aceh office in its response to the tsunami relief operations for rehabilitation and reconstruction of the health system.
In 2006 and 200,7 he worked as a Senior Programme Officer for the GAVI Alliance and was responsible for monitoring programme implementation in 76 GAVI-supported countries.
Before his appointment to Sudan, he was the WHO Representative in Albania from January 2008 to November 2010.