Acute Watery Diarrhoea has affected Sudan since August 2016, infecting over 36,000 people and killing over 800 to date. These are the stories of the people living with, and fighting against AWD. This week: Khalid Sarour, Environmental Health Officer in Kosti, White Nile.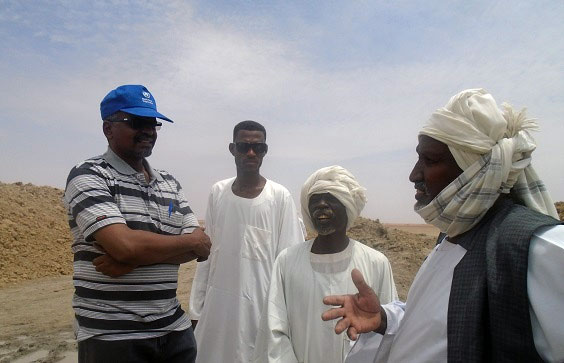 Khalid Sarour speaking with community leaders in White Nile state (Photo: Khalid Sarour/WHO Sudan).
The main cause of infection in White Nile, says Khalid Sarour (43) of the World Health Organization, is the lack of safe water. "Most people use the Nile's river water for all of their daily needs. Bathing, going to the bathroom, but also drinking and cooking. They often do not know, or are unable, to filter, chlorinate, or boil all their water before they use it." Additionally, bacteria can grow easily in the sometimes stagnated water in the White Nile. Water levels alternate from quite low to flooding, and the surrounding air temperatures are high.