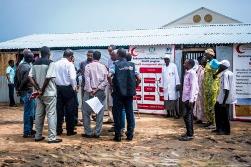 Cholera risk assessment mission to internally displaced people camps in White Nile State. Photo credit: WHO/Lorenzo PezzoliKhartoum, 17 August 2015 -- The Federal and State Ministries of Health, with the support of WHO, conducted an assessment mission last week to enhance country support in the face of a potential cholera outbreak and determine the level of preparedness in internally displaced persons (IDPs) camps hosting over 198 000 people from South Sudan.
Ministry officials and WHO experts focused during their mission on the camps in White Nile State where approximately 90 000 IDPs are being accommodated. The joint team carried out a comprehensive cholera risk assessment to facilitate the introduction of oral cholera vaccine in the camps.
» Full story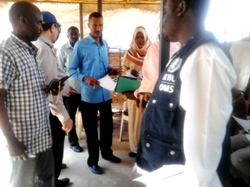 Measles vaccination team in the field, North Darfur State, Sudan, 27 July 2015. Photo: © WHO 4 August 2015 | Khartoum – The Federal Ministry of Health, in coordination with WHO, has mobilized financial and human resources to respond to the measles outbreak in Sudan.
Her Excellency Mrs Sumaia Okoued, Sudan's State Minister of Health said, "The Federal Ministry of Health, with the support of WHO, vaccinated a total of 6 339 733 children aged 6 months to 15 years between January and June 2015; this number represents 38% of the total target of 16 495 955 children of the same age group in Sudan." 
» Full story
Ministry of Health and WHO intensify support to cholera preparedness in Sudan

Ministry of Health coordinates efforts with WHO to respond to measles outbreak in Sudan