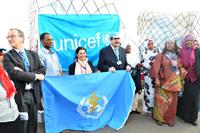 The shipment of vaccines arrived in response to WHO's proposal for US$ 3.9 million for response activities from the Measles and Rubella InitiativeKhartoum, 8 April 2015 - A first batch of much needed measles vaccines arrived Sudan this week, in response to the measles outbreak that has occurred in 23 states over the past months.
2 million measles vaccine doses were received in Khartoum international airport last Monday by the Federal Ministry of Health/WHO/UNICEF, out of 9.6 million doses ordered to support a mass immunization campaign, due to be conducted in the affected areas.
» Full story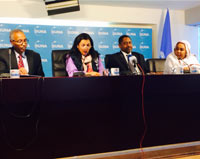 Watch the video on World Health Day in SudanKhartoum, 7April 2015 – Today, the World Health Organization country office in Sudan, in collaboration with Ministry of Health and Agriculture and Food Organization of the United Nations (FAO) celebrated World Health Day 2015 on food safety.
Hosted by Sudan News Agency, the celebration was attended by representatives of the Ministries of Agriculture and Animal Resources, as well as a large number of media representatives.
In her remarks, Dr Naeema Al-Gasseer, WHO Representative in Sudan, stressed the importance of a collective and multidisciplinary approach in handling food safety issues as the right path to ensure safe food.
» Full story
Sudan receives 2 million doses of measles vaccines in response to the outbreak

WHO celebrates World Health Day on food safety in Sudan