19 February 2016 - A WHO-supported training course on vaccine management was held in Khartoum last week, bringing together cold chain officers, physicians, epidemiologists, and technical focal points from the Ministry of Health's Expanded Programme on Immunization, WHO, UNICEF and nongovernmental organizations. The purpose of the training was to instruct participants on correct handling techniques for vaccines at each level of the supply chain, in order to preserve vaccine efficacy and minimize wastage.
» Full story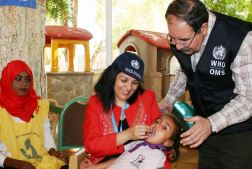 Dr Naeema Al Gasseer, WHO Representative to Sudan, giving a dose of vitamin A to a child during the polio campaign in Sudan from 2 to 4 November 20158 November 2015 – More than 4 million children under the age of 5 have been targeted with oral polio vaccine during a 3-day national immunization day campaign in Sudan.
The campaign, which was carried out in 18 states of Sudan, will help to strengthen the community's immunity against poliovirus, said Dr Naeema Al Gasseer, WHO Representative in Sudan. Vitamin A supplements were also provided to children taking the vaccine during the supplementary immunization activity.
» Full story
Helping to ensure vaccine effectiveness in Sudan

4 million children in Sudan targeted with oral polio vaccine