About 720 000 children under one year of age in Sudan will be vaccinated this year against meningitis through the routine immunization system.
Khartoum, 28 July 2016 – Children in Sudan are set to become the first in the meningitis belt to benefit from the introduction of meningitis A vaccine into a routine immunization programme. The vaccine, previously only used in immunization campaigns across Africa, will be administered to children as part of the country's routine schedule.
» Full story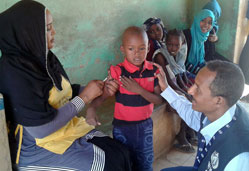 Khartoum, 1 June 2016 - The State leadership of the Federal Ministry of Health in Sudan with the support of WHO and partnerships launched, on 22 May 2016, a 10-day subnational measles campaign targeting more than 4 million children aged six months to 15 years in 6 States in Sudan. This campaign, which is being implemented in (West Kordufan, Blue Nile, North Kordofan, South Kordofan, White Nile, and Sennar), is complementary to previous measles immunization rounds carried out in 2015 in 10 states targeting 9 525  441 children under 15 years old.
» Full story
Sudan: first to introduce life-saving meningitis A vaccine into routine immunization

WHO and the Federal Ministry of Health launch measles vaccination campaign in Sudan