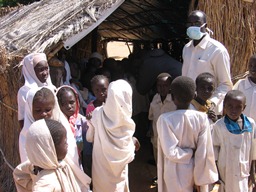 A strong health surveillance system allows a timely response to save lives.With support from the World Health Organization (WHO), three clinics managed by Labena, Sudanese Red Crescent Society and SIBRO have started providing services to cover the health needs of people affected by conflict in South Sudan. According to the United Nations Office for the Coordination of Humanitarian Affairs, some 24 700 people had arrived from South Sudan to five states in Sudan by 10 February 2014.
WHO donated medicines and supplies to five health partners to ensure uninterrupted delivery of critical health services in different IDP camps in North Darfur.
Emergency surgical supplies, antibiotics, intravenous fluids, as well as assorted essential medicines, were donated by WHO to Kutum and Mallet rural hospitals.
» Full story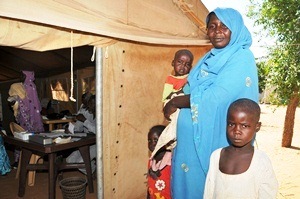 In Sudan, maternal and child health is a priority.
Unless there is additional funding bilaterally or through the Sudan Common Humanitarian Fund (CHF), more than 500 000 children under five years old will be at risk of the country's big killers namely acute respiratory infections, measles, diarrhoea, malaria, malnutrition, as well as other vaccine-preventable diseases; and more than 130 000 pregnant women will have no access to maternal health care services such as ante-natal care, delivery assisted with skilled birth attendants, and emergency obstetric care.
The Health Sector's overall appeal under the Strategic Response Plan (SRP) is US$ 68 million targeting 5.1 million people. These funds will help facilitate better access to basic primary health in camps, gatherings and affected host population and support prompt response to new crises of displacement, outbreaks or public health threats. To date, there is a gap of US$ 59 million to support health interventions to save more lives and support relief efforts.
» Full story
Emergency health highlights

Sudan health partners seek more support