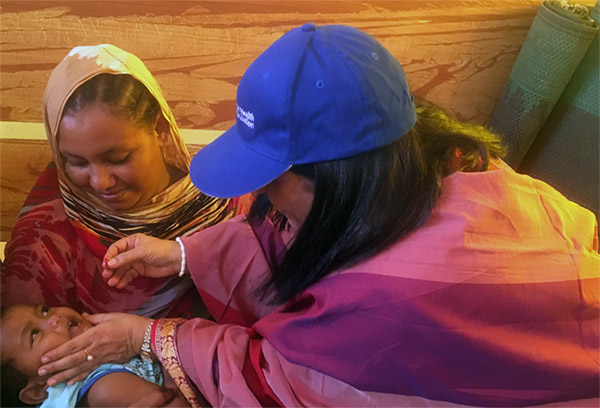 Khartoum, 14 November 2018 – Sudan's Federal Ministry of Health, with support from the World Health Organization (WHO), and the United Nations Children's Fund (UNICEF) has launched a three-day subnational immunization days campaign (SNIDs), taking place on 12–14 November 2018, to maintain the country's polio-free status.
The campaign aimed to administer the oral polio vaccine (OPV) to 4.5 million children under five years of age in addition to 2 million doses of vitamin A to children of 6–59 months of age to strengthen their immune system and prevent blindness in the long term. The campaign covered 133 localities in 16 out of Sudan's 18 states.
"Keeping Sudan polio-free has been a major strategic priority for WHO, the Government, and health partners," said Dr. Naeema Al Gasseer, WHO Representative in Sudan. "Our biggest challenge now, in addition to sustaining sensitivity of the surveillance system, is the sub-optimal immunity among children moving across the borders, particularly given the outbreaks in the Horn of Africa. So far, with the committed leadership of the Government, support from donors and strong collaboration among partners, we have been able to consistently reach over 90% of targeted children annually since 2009", Dr Naeema added.