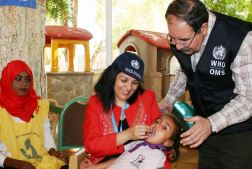 Dr Naeema Al Gasseer, WHO Representative to Sudan, giving a dose of vitamin A to a child during the polio campaign in Sudan from 2 to 4 November 20158 November 2015 – More than 4 million children under the age of 5 have been targeted with oral polio vaccine during a 3-day national immunization day campaign in Sudan.
The campaign, which was carried out in 18 states of Sudan, will help to strengthen the community's immunity against poliovirus, said Dr Naeema Al Gasseer, WHO Representative in Sudan. Vitamin A supplements were also provided to children taking the vaccine during the supplementary immunization activity.
» Full story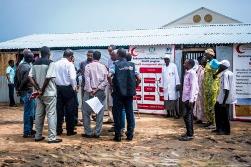 Cholera risk assessment mission to internally displaced people camps in White Nile State. Photo credit: WHO/Lorenzo PezzoliKhartoum, 17 August 2015 -- The Federal and State Ministries of Health, with the support of WHO, conducted an assessment mission last week to enhance country support in the face of a potential cholera outbreak and determine the level of preparedness in internally displaced persons (IDPs) camps hosting over 198 000 people from South Sudan.
Ministry officials and WHO experts focused during their mission on the camps in White Nile State where approximately 90 000 IDPs are being accommodated. The joint team carried out a comprehensive cholera risk assessment to facilitate the introduction of oral cholera vaccine in the camps.
» Full story
4 million children in Sudan targeted with oral polio vaccine

Ministry of Health and WHO intensify support to cholera preparedness in Sudan