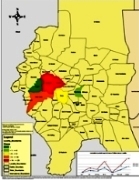 2 November 2012 – Sudan's Federal Ministry of Health has notified the World Health Organization (WHO) of a yellow fever outbreak in nine localities in West, Central and South Darfur. Since the last week of September, a total of 103 suspected cases, including 42 deaths, have been reported from the districts of Zalengei, Nertity, Wadisalih, Azoom, Nyala, Sharq Algabal (Mershing), Kass, Geneina and Kernik.
The Federal Ministry of Health has said that the immediate priority is to control the vector, reinforce the disease surveillance system and raise public awareness of prevention and control of this disease.
Situation Report No 2, 2 November 2012
2 November 2012 - update
A joint WHO headquarters/Regional Office mission is expected to arrive in Sudan soon to build the capacity of the outbreak control response team.
Technical support teams from the Federal Ministry of Health are on ground in Central and South Darfur to conduct outbreak investigation and initiate response, entomological surveys in affected areas, as well as search for active cases. To raise awareness among affected communities, activities were conducted by the teams, including initial meetings with community leaders to inform and update on yellow fever.
Blood bank supplies and personal protective equipment were provided to affected states.
2000 doses of yellow fever vaccine have been availed for health staff in the affected localities.
The International Coordination Group (ICG) has been alerted for vaccines for a possible reactive vaccination campaign awaiting reconfirmation of the diagnosis by the Institute Pasteur in Senegal.
28 October 2012 - update
Preparations for a mass vaccination campaign are underway to vaccinate the at-risk population in Darfur.
Samples have been sent to a reference laboratory for reconfirmation as a requirement to mobilize yellow fever vaccine from global stockpile.
Yellow fever is spread by mosquitoes. There is no specific treatment for yellow fever, only supportive care to treat dehydration and fever, and blood transfusion, if and when needed. It is a preventable disease with symptoms and severity varying from case to case.
Vaccination is the single most important measure for preventing yellow fever.
The Federal Ministry of Health, WHO and other health partners are working on the ground to ensure timely containment of the outbreak.
Situation reports on the yellow fever outbreak in Darfur
Situation Report No 2, 2 November 2012