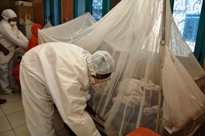 Most suspected yellow fever patients being treated at the isolation wards of Nyala Teaching Hospital in South Darfur's capital are from Central Darfur 9 November 2012 – The yellow fever outbreak has now affected 20 localities in Central, South, West and North Darfur. As of 8 November 2012, 266 suspected cases have been reported, including 85 deaths (case–fatality rate of 31.8%).
Reports were received since the last week of September 2012 from the districts of Zalengei, Nertity, Wadisalih, Azoom, Mukjer, Bendisi, Nyala, Kass, Kubum, Sharq Agabal, Yassin, Mershingm, Rehaid Albirdy, Genaina, Kernik, Baidha, Habila, Forbranga, Saraf Omra and Alseraif.
Surveillance shows that 72.9% of the reported cases are from Central Darfur, 10.9% are from South Darfur, 12% are from West Darfur, 4.1% are from North Darfur and 0.1% are from East Darfur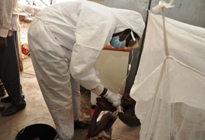 A patient receives treatment from a health staff at the isolation ward of Nyala teaching hospital.WHO has been supporting the technical support teams deployed by the Federal Ministry of Health in Central, South and West Darfur for initial support, and to conduct outbreak investigation and initiate response, entomological surveys, active cases searches, and hold meetings with community leaders in affected areas for awareness raising, as well as provision of blood bank supplies and personal protective equipment to affected states.
To date, health cadres in affected areas have been vaccinated against yellow fever. Moreover, WHO and the Ministry of Health have started the training programmes for more than 225 health staff in the affected localities on yellow fever surveillance, case management, outbreak investigation and infection prevention and control. On 6 November, training programmes for medical doctors on yellow fever surveillance, case definition and management have started in Nyala and Kass localities in South Darfur.
One of the initial interventions of WHO is to support training courses on yellow fever in different parts of Darfur. Photo above shows 30 medical doctors during a training session at the Ministry of Health from 6–7 November 2012
Related link
Situation report 4, 9 November 2012 [pdf 872kb]
Situation report 3: yellow fever outbreak in Darfur, 6 November 2012 [pdf 685kb]
Situation report 2, 2 November 2012 [pdf 833kb]