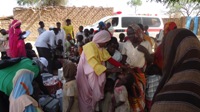 Vaccination against measles and polio is one of the priorities of the Government of South Sudan1 May 2013 – Over 47 000 children were vaccinated against measles and polio during an emergency vaccination campaign conducted from 4 to 10 April in Jebel Amir area, North Darfur.
More than 110 000 people are believed to have sought refuge in five major towns after violence hit the gold-rich Jebel Amir area at the beginning of January. WHO and the State Ministry of Health of North Darfur visited Jebel Amir as early as February and decided to conduct an emergency immunization campaign of children under 15 against measles and of children under 5 against polio.
During the campaign, 22 Ministry of Health teams, with support from WHO and UNICEF, established 60 temporary vaccination sites in Alsereif, Gara Alzawia, Abo Gamra, Kabkabia and Saraf Umra.