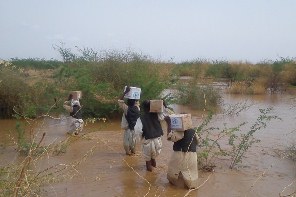 WHO staff and volunteers crossed flooded areas to deliver life-saving medicines in Alkow village, Aroma locality, Kassala.
According to the Humanitarian Aid Commission (HAC) the number of people affected by flooding has reached 340 000. As of 31 August 2013, 49 localities have been affected in 14 states, adding White Nile State which reported heavy rains that led to property destruction.
Over the last few days, Blue Nile State did not witness heavy rains. Relative stability and improvement have been observed in all affected areas. Some of the affected populations have started returning to their original villages and settlements.
One of the major health concerns during this emergency is the collapse of 54 661 latrines that pose serious risks to public health. The Federal Ministry of Health (FMoH) reported gaps related to water chlorination, water quality testing and environmental sanitation.
Around 1665 water sources out of 2024 were so far chlorinated. Operational funding for the next two months is considered a gap.
Waste and garbage accumulated over the last two weeks pose another health hazard. To date, 127 out of the targeted 137 garbage collection campaigns have been implemented.
More than half of the identified breeding sites showed presence of larvae which will develop into mature flies in the next few days or weeks, if vector control interventions are not initiated. According to FMoH, 734 breeding sites have so far been sprayed and treated.
As heavy rains in many parts of the country is indicated by the weather forecast, the situation continues to be on alert status. Flood and its consequences are anticipated to worsen. This may aggravate outbreaks of communicable diseases especially acute watery diarrhoea, malaria, dengue, and Rift Valley fever.
Sudan health sector bulletins
Sudan health sector bulletin on flood response | 31 August 2013 [pdf 601kb]
Sudan health sector bulletin on flood response | 21 August 2013 [pdf 307kb]
WHO situation reports
Sudan floods situation report 2 | 19 August 2013 [pdf 340kb]
Sudan floods situation report 1 | 14 August 2013 [pdf 264kb]