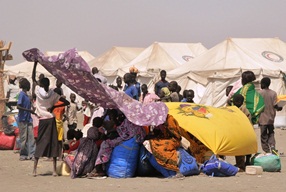 Most of the South Sudanese who arrived in Sudan are accommodated at the two camps in White Nile State.In Sudan, some 100 000 new internally displaced people in South Darfur and in North Darfur, and more than 45 000 South Sudanese who have arrived in the country, are in need of heath assistance.
The World Health Organization has distributed 25 basic health kits, one trauma kit, five rapid response kits and other essential medicines to six health partners providing services to displaced people in camps in South Darfur and White Nile states.
The main health risks in the camps are acute respiratory infections, malaria, acute watery diarrhoea and the importation of Guinea worm.