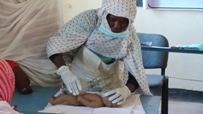 The skills acquired at the training will be evaluated by the Ministry of Health and WHO through monthly supervisory visits.1 May 2013 –WHO provided support to the State Ministry of Health of North Darfur in conducting a five-day training workshop in standard obstetric care for 25 midwives working in the Kutum locality.
Maternal mortality remains a major problem in Sudan. The Sudan Household Health Survey from 2010 showed that the maternal mortality ratio in North Darfur was 177.5 per 100 000, but in some areas, such as Kutum, it is feared to be significantly higher. Most maternal deaths are due to complications during pregnancy and childbirth, such as bleeding, high blood pressure, infection and prolonged labour. Many of these deaths could be prevented through early recognition, treatment and timely referral.
The training, designed and facilitated by the Reproductive Health Department of the State MInistry of Health, focused on referral criteria, emergency care, infection prevention and making pregnancy safer. It is part of WHO's project on reduction of child and maternal deaths in Kutum and Mallet – areas in North Darfur with poor maternal and child health services.