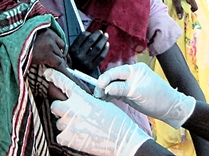 Umdokhon sector in Darfur reached the meningitis alert threshold during the first week of April. 7 May 2012 – From 1 January to 13 April 2012, a total of 276 suspected cases of meningitis were reported in Sudan, with 14 deaths.
From the areas that reported meningitis, only Umdokhon sector in Central Darfur had crossed the epidemic threshold. The epidemic threshold is reached when the number of cases has doubled over three consecutive weeks.
In response, a total of 36 872 people, or 89.4% of the target population, were vaccinated in Umdokhon and its neighbouring villages from 1 May to 6 May 2012.
The affected locality of Umdokhon borders Chad, which has a confirmed presence of Neisseria meningitidis-A.
The Ministry of Health and the State Ministry of Health campaign was conducted with support from its health partners, including the International Coordinating Group on Vaccine Provision for Epidemic Meningitis Control, International Medical Corps and WHO.