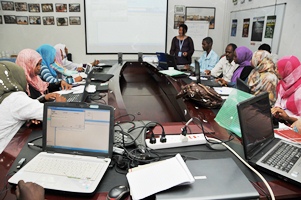 Building local capacity is one of WHO Sudan's activities to address neglected tropical diseases.Thirteen tropical diseases are considered to be neglected globally and most of these are prevalent in Africa. In Sudan, leishmaniasis (also known as kala-azar), schistosomiasis, onchocerciasis, trachoma, , lymphatic filariasis (commonly known as elephantiasis) and human African trypanosomiasis (commonly known as sleeping sickness) belong to this group of diseases.
Some of these diseases are preventable including schistosomiasis and soil-transmitted helminths whilst others fall within control programmes (leishmaniasis, trachoma).
Prevention and control of high burden of neglected tropical diseases remains a major public health challenge in the country. WHO has been supporting the Federal Ministry of Health in its efforts to fight neglected tropical diseases such as leishmaniasis, schistosomiasis, onchocerciasis, trachoma, guinea worm disease, lymphatic filariasis and mycetoma (also called madura).
The national control programmes for neglected tropical diseases were recently strengthened, as these were not as active as other disease prevention and control programmes due to insufficient funds to implement activities.
In addition, a mycetoma control programme was been established at the Federal Ministry of Health in 2010 after many years of research conducted by the University of Khartoum. This step was taken as result of evidences indicating an increase in morbidity and disability due to mycetoma. 
Major activities of the control of neglected tropical diseases programme include: 
certification of Sudan as free of guinea-worm by 2013securing funding to cover operational costs for mass drug administration campaigns for neglected tropical diseases target populationsintegration of vector control and mass drug administration activities between neglected tropical disease programmesdevelopment of district vision 2020 plans for all rapid assessment for avoidable blindness surveyed states (to share results of surveys with stakeholders and plan for interventions)ensuring uninterrupted drug supply and on-time provisionstrengthening and capacity-building of neglected tropical diseases surveillance and health information system at all levels.