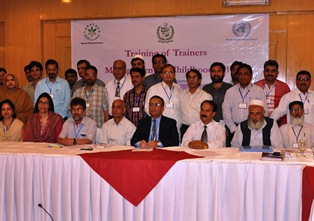 With better training and harmonization of the different programmes that provide health services for children, serious illness and death from TB could be prevented in thousands of children every yearWHO conducted a subregional workshop on childhood TB for training of trainers, with support from the Stop TB Partnership from 13 to 17 May 2013. The event was organized by the national TB control programme of Pakistan, which was attended by pediatricians, chest physicians, medical officers and representatives of the national control programmes of Pakistan and Afghanistan. Childhood tuberculosis is a major public health problem in Pakistan with roughly 20% of tuberculosis patients detected every year being children under the age of 15. 
The objectives of the training were to:
increase case detection of TB in children within the community
improve the diagnosis and management of children with all forms of TB
increase implementation of child contact screening and preventive therapy (with a special focus on high-risk groups)
improve quality of child TB data for monitoring and evaluation 
increase child TB case reporting from the private sector.
Sessions included discussions on child TB epidemiology worldwide with particular focus on Pakistan and Afghanistan, an update on child TB diagnosis and management, drug resistant TB in children, and child TB diagnostic algorithms that can be used in low-resource settings. 
Participants were given an overview of the guidance on child TB in Pakistan, developed in collaboration with the Pakistan Pediatrics Association (PPA), the national TB programme child TB desk guide and national programme monitoring and evaluation tools. Methods of integration of child TB-related questions, contact history in particular, into the IMCI questionnaire were discussed in addition to the importance of integration at the basic health unit and community level. 
Participants gained a better understanding of important issues in relation to childhood TB and this will improve the management of TB in children across Pakistan and Afghanistan. There is a need to integrate child TB training into regular national control programme training activities and medical and nursing school curricula across the country.
Related links