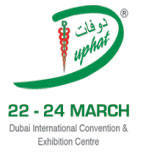 Dubai International Pharmaceuticals and Technologies Conference and Exhibition (DUPHAT) is a major pharmaceutical and technology event in the Middle East. It serves as a convergence point for pharmacists, physicians, scientists and marketing professionals with the aim of providing a wide-ranging exhibition where many important topics are discussed and presented. Topics for this year include a robot for chemotherapy preparation through pharmacy automation and the pharmacist's role in public health.

This year, WHO Regional Office for the Eastern Mediterranean presented to participating regulators, manufacturers and practitioners an overview on the WHO Prequalification Programme. During the conference pharmaceutical manufacturers of generic and innovative medicines were provided with information on how to achieve the required quality standards of the WHO Prequalification Programme and benefits of participating in the programme. Prequalified products can be procured in international and local tenders by United Nations agencies and a number of large nongovernmental organizations.

The WHO Prequalification Programme for Medicines is supported by UNAIDS, UNICEF, the United Nations Population Fund (UNFPA) and the World Bank as a concrete contribution to the United Nations. The priority goal is to address the problem of widespread diseases in countries with limited access to quality medicines and to ensure that quality pharmaceuticals are available. WHO sets norms and standards, develops guidelines and advises Member States on issues related to quality assurance of medicines in national and international markets.