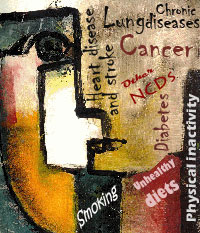 Noncommunicable or chronic diseases account for over 50% of annual deaths and 60% of disease burden in the Eastern Mediterranean Region.
The four main noncommunicable diseases, including cardiovascular diseases, cancer, diabetes and chronic respiratory diseases, are the largest contributors to mortality in the majority of countries in the Region. Deaths attributed to cardiovascular disease range from 49% in Oman to 13% in Somalia. Cancer deaths are reported to range from 20% in Qatar to 3% in Somalia and Afghanistan. There are very high rates of diabetes in the Region; 6 countries out of the 10 globally with the highest prevalence of diabetes are in the Region. Prevalence rates of over 18% are reported in some countries.
The noncommunicable disease epidemic is being driven by population ageing, progressive unplanned urbanization and globalization of trade and marketing leading to increased exposure to risk factors for noncommunicable diseases. The prevalence of noncommunicable disease risk factors is high in most countries of the Region. Data indicate that more than one quarter of the adult population has high blood pressure. A high prevalence of hypercholesterolemia was noted with a range of between 14% and 52% among adults aged 15–65 years. The Region has the highest rates of physical inactivity, among other regions. About 50% of women and more than a third of men are insufficiently active. Tobacco consumption, prevalence of smoking among adult men ranges between 7% and 57%.