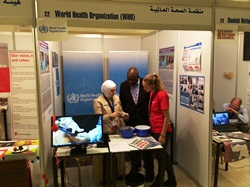 WHO showcases the new mobile public health surveillance system in Jordan, and the training programme for Syrian refugee doctors and nurses living in Turkey, at the Resilience and Development Forum Expo. Credit: WHO/J.Swan16 December | Amman – WHO recently participated in the regional Resilience and Development Forum at the Dead Sea, Jordan – a meeting which brought together government officials, donors, and heads of United Nations agencies and civil society organizations, to discuss and chart the future directions of the Syria crisis response. Organized by the United Nations Development Programme and hosted by the Government of Jordan, the Forum enabled multi-level policy deliberations on priority areas of intervention and strategic partnership for collective response to the crisis inside Syria and in neighbouring countries hosting Syrian refugees.
» Full story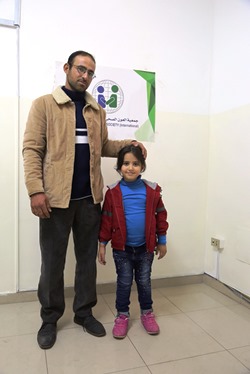 Hammad and Sham. Photo credit: WHO/J Swan22 November 2015, Amman | Jordan — Hammad Faleh, 32, is a refugee from Dara'a, Syria. At Jordan Health Aid Society (JHAS) Al Madineh clinic in downtown Amman, he patiently waits with his 5-year-old daughter Sham (meaning 'Damascus'), to receive insulin for his diabetes. Hammad has been a type-1 diabetic for over 14 years.
"It's [diabetes] been something I've managed for almost half my life," the former English teacher says, taking a seat in the waiting room and instructing Sham to draw while he speaks with us. "But since the war [in Syria] began, my condition has been difficult to control and this has made things very hard for me and my family," he says.
» Full story
High-level regional forum to discuss future of the Syria response

The challenges of controlling diabetes as a refugee