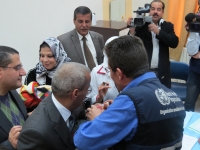 The new vaccination campaign aims to target some 950,000 children between 0 and 5 years oldAmman, 2 March 2014 – The Ministry of Health in Jordan, with the support of WHO, UNICEF and the Office of the United Nations High Commissioner for Refugees (UNHCR), launched the third round of the national polio vaccination campaign at the Mafraq Comprehensive Health Centre Sunday, in the presence of the Minister of Health His Excellency Dr Ali Hiyasat, UNICEF Jordan Deputy Representative Michele Servadei, WHO Public Health Officer Dr Sabri Gmach, and UNHCR External Relations Officer Frauke Riller.
» Full story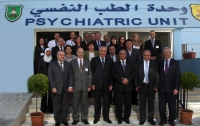 The event was attended by 50 officials from the Ministry of Health, WHO, Jordanian Nursing Council and Jordan University Hospital.WHO/Jordan is pleased to announce the opening of a newly completed Mental Health Unit at the University of Jordan Hospital in Amman, established in collaboration with the WHO and the Jordanian Nursing Council. It is our hope that the creation of this unit will contribute to the hospital's ongoing efforts in providing more comprehensive health services by addressing the mental health needs of the population in Jordan, including Jordanians and non-Jordanians. Under the patronage of Her Royal Highness Princess Muna Al Hussein, the opening ceremony was inaugurated by HRH representative His Excellency Dr. Tahir Shaksheer.
» Full story
Launch of the third national polio vaccination campaign in Jordan

New mental health unit opened at the University of Jordan Hospital.