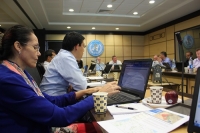 We must not forget that our ultimate purpose is to eradicate polio, and we do that by reaching every last child with vaccineA multi-country, multi-agency strategic planning meeting focused on reviewing strategies to limit the transmission of wild poliovirus in the Middle East was held recently in Amman, Jordan.
Led by WHO and as part of the Global Polio Eradication Initiative, the risk mapping and campaign monitoring workshop brought together health professionals from WHO and UNICEF regional and country offices and WHO headquarters, the US Centers for Disease Control and Prevention (CDC), Office of the United Nations High Commissioner for Refugees (UNHCR), United Nations Relief and Works Agency for Palestine Refugees in the Near East (UNRWA), United Nations Office for the Coordination of Humanitarian Affairs (UNOCHA) and Global Good.
» Full story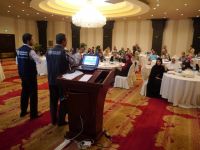 Similar workshops for deaf and mute communities in northern and southern Jordan are being scheduled over the next few monthWorld Health Organization, in cooperation with Ministry of Health Jordan and UNICEF, conducted a workshop last week for more than 60 members of Amman's deaf and mute community on the importance of polio and routine immunization.
Delivered verbally and in sign language the workshop is the first of its kind held in Jordan and is part of an innovative pilot project developed by WHO and its health partners to reach isolated members of the community who do not have the same level of access to health education messages.
» Full story
Agencies join to review strategies to combat polio in the Middle East

Every last child: WHO enhances polio awareness amongst Jordan's deaf and mute community