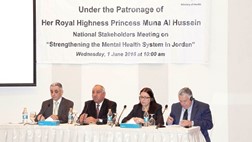 Amman, 13 July 2016  – Under the Patronage of HRH Princess Muna Al Hussein, the World Health Organization (WHO) in Jordan and the Ministry of Health, organized a one day national stakeholders meeting on strengthening the mental health system in Jordan. 
The meeting was part of their joint efforts to review the mental health situation in Jordan, outline some of the main achievements and challenges of the mental health national programme implemented by the Ministry of Health, with the support of WHO and the Jordanian Nursing Council.
WHO invited top level mental health experts who provided guidance and advice on continuing efforts in strengthening governance for mental health, establishing community-based mental health services focusing on the primary and secondary levels of care, promoting human rights standards, and empowering service users and families as active partners in the reform process. 
» Full story
19 April 2016 – The Ministry of Health of Jordan with the support of WHO, UNICEF and partners, recently completed a mass immunization campaign against polio, reaching more than one million children under 5 across the country with oral polio vaccine (OPV). The nationwide immunization drive was the country's sixth since polio's return to the Region in 2013, and comes as part of efforts to maintain and strengthen population immunity, until the poliovirus is eradicated globally.
"We are in reach of eradication, but the battle is not yet won. With wild polio continuing to circulate in endemic Pakistan and Afghanistan, countries in WHO's Eastern Mediterranean Region, particularly those in the Middle East, remain at risk of importation and outbreaks," said Chris Maher, manager of WHO's regional polio eradication programme based in Amman.
» Full story
Strengthening the mental health system in Jordan

Keeping up the fight against polio: maintaining population immunity in Jordan