October 2016 – Royal Medical Services recently received 2 mobile clinics from WHO, funded by the generous support of the State of Kuwait to support Jordanians and refugees affected by the Syrian crisis and to provide treatment to patients in remote areas.
The ceremony was held at the headquarters of the Royal Medical Services in Amman, and was attended by Kuwait's Ambassador to Jordan Dr Amad Al-Duaij, Royal Medical Service General Director Dr Muein Al Habashneh and WHO Representative to Jordan Dr Maria Cristina Profili.
» Full story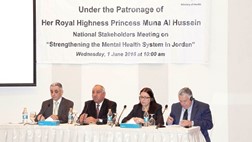 Amman, 13 July 2016  – Under the Patronage of HRH Princess Muna Al Hussein, the World Health Organization (WHO) in Jordan and the Ministry of Health, organized a one day national stakeholders meeting on strengthening the mental health system in Jordan. 
The meeting was part of their joint efforts to review the mental health situation in Jordan, outline some of the main achievements and challenges of the mental health national programme implemented by the Ministry of Health, with the support of WHO and the Jordanian Nursing Council.
WHO invited top level mental health experts who provided guidance and advice on continuing efforts in strengthening governance for mental health, establishing community-based mental health services focusing on the primary and secondary levels of care, promoting human rights standards, and empowering service users and families as active partners in the reform process. 
» Full story
Royal Medical Services receives 2 mobile clinics with support from Kuwait

Strengthening the mental health system in Jordan