19 April 2016 – The Ministry of Health of Jordan with the support of WHO, UNICEF and partners, recently completed a mass immunization campaign against polio, reaching more than one million children under 5 across the country with oral polio vaccine (OPV). The nationwide immunization drive was the country's sixth since polio's return to the Region in 2013, and comes as part of efforts to maintain and strengthen population immunity, until the poliovirus is eradicated globally.
"We are in reach of eradication, but the battle is not yet won. With wild polio continuing to circulate in endemic Pakistan and Afghanistan, countries in WHO's Eastern Mediterranean Region, particularly those in the Middle East, remain at risk of importation and outbreaks," said Chris Maher, manager of WHO's regional polio eradication programme based in Amman.
» Full story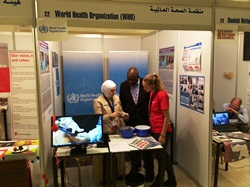 WHO showcases the new mobile public health surveillance system in Jordan, and the training programme for Syrian refugee doctors and nurses living in Turkey, at the Resilience and Development Forum Expo. Credit: WHO/J.Swan16 December | Amman – WHO recently participated in the regional Resilience and Development Forum at the Dead Sea, Jordan – a meeting which brought together government officials, donors, and heads of United Nations agencies and civil society organizations, to discuss and chart the future directions of the Syria crisis response. Organized by the United Nations Development Programme and hosted by the Government of Jordan, the Forum enabled multi-level policy deliberations on priority areas of intervention and strategic partnership for collective response to the crisis inside Syria and in neighbouring countries hosting Syrian refugees.
» Full story
Keeping up the fight against polio: maintaining population immunity in Jordan

High-level regional forum to discuss future of the Syria response