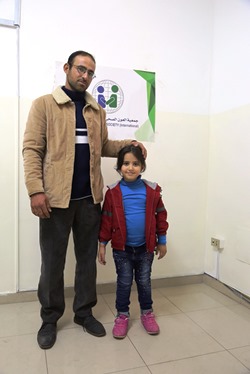 Hammad and Sham. Photo credit: WHO/J Swan22 November 2015, Amman | Jordan — Hammad Faleh, 32, is a refugee from Dara'a, Syria. At Jordan Health Aid Society (JHAS) Al Madineh clinic in downtown Amman, he patiently waits with his 5-year-old daughter Sham (meaning 'Damascus'), to receive insulin for his diabetes. Hammad has been a type-1 diabetic for over 14 years.
"It's [diabetes] been something I've managed for almost half my life," the former English teacher says, taking a seat in the waiting room and instructing Sham to draw while he speaks with us. "But since the war [in Syria] began, my condition has been difficult to control and this has made things very hard for me and my family," he says.
» Full story
10 September 2015 | Amman, Jordan – 11 cases of laboratory confirmed Middle East respiratory syndrome coronavirus (MERS‐CoV) have been reported in Jordan between 26 August and 9 September 2015. 5 of the 11 patients have died. 
MERS is a viral respiratory disease caused by a novel coronavirus that was first identified in Saudi Arabia in 2012. Coronaviruses are a large family of viruses that can cause diseases ranging from the common cold to severe acute respiratory syndrome (SARS). The virus does not seem to pass easily from person to person unless there is close contact, such as occurs when providing unprotected care to a patient.
Based on the current situation and available information, the Ministry of Health are actively investigating possible epidemiological links between cases, as well as among household contacts and health care workers. WHO is supporting the Ministry of Health in training for infection prevention and control, risk communication, surveillance and epidemiological investigation of cases.
» Full story
The challenges of controlling diabetes as a refugee

Middle East respiratory syndrome coronavirus (MERS‐CoV) in Jordan