WHO, in collaboration with the Parliamentary Health Committee and Ministry of Health, conducted an awareness raising seminar on tobacco control in Jordan at the Parliament in Amman on 7 December 2014. Experts from the WHO Regional Office for the Eastern Mediterranean and WHO country office in Turkey participated the event.
His Excellency Minister of Health Dr Ali Hyasat stated in his opening remarks that there needed to be a unified stand from all groups of the society to combat smoking through raising awareness among community members about the harmful effects of tobacco use. He also stressed the need to respect the law in public places and non-smokers' right to breathclean air.
Dr Ra'ad Hijazeen, Head of the Parliamentary Health Committee praised the initiative, which focuses on protecting present and future generations from the devastating health effects of smoking. 
» Full story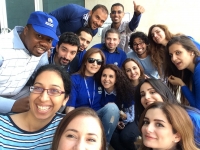 WHO Jordan staff gather in support for Go Blue for Breakfast On Thursday 13 November, World Health Organization (WHO) staff in Jordan came together to mark World Diabetes Day over a shared healthy breakfast. The "Go Blue for Breakfast" initiative is one of a number of World Diabetes Day campaign activities suggested by the International Diabetes Federation to raise awareness around diabetes and highlight the importance of healthy eating in the prevention of type 2 diabetes.
More than 40 staff from a variety of nationalities joined in the breakfast, contributing traditional dishes from their respective cuisines.
» Full story
Awareness-raising seminar on tobacco control

World Diabetes Day 2014 "Go Blue for Breakfast!"