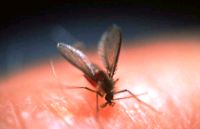 A sandfly vector of Leishmania parasites taking a blood meal through human skin.7 April is an occasion not only to mark the day on which WHO was founded but also to draw attention to specific health issues of global importance. This year WHO has chosen vector-borne diseases as a topic of focus. WHO will focus on cutaneous leishmaniasis, given the spread of this disease following the Syrian crisis.
Cutaneous leishmaniasis is a disease that is caused by a protozoa parasite. It is transmitted to humans by the bite of infected phlebotomine sandflies. The disruption of water and sanitation systems in Syria, where cutaneous leishmaniasis is endemic in the northern part of the country, has created the perfect conditions for the phlebotomine sandfly to thrive and transfer the disease. Cutaneous leishmaniasis is a growing public health problem in the Region.  It disfigures people who are infected; thus often resulting in social stigmatization and exclusion, particularly for women.
» Full story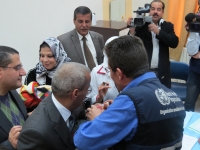 The new vaccination campaign aims to target some 950,000 children between 0 and 5 years oldAmman, 2 March 2014 – The Ministry of Health in Jordan, with the support of WHO, UNICEF and the Office of the United Nations High Commissioner for Refugees (UNHCR), launched the third round of the national polio vaccination campaign at the Mafraq Comprehensive Health Centre Sunday, in the presence of the Minister of Health His Excellency Dr Ali Hiyasat, UNICEF Jordan Deputy Representative Michele Servadei, WHO Public Health Officer Dr Sabri Gmach, and UNHCR External Relations Officer Frauke Riller.
» Full story
World Health Day 2014: Vector-borne diseases

Launch of the third national polio vaccination campaign in Jordan