World Immunization Week – celebrated annually between 24 and 30 April – aims to promote the use of vaccines to protect people of all ages against disease. Under this year's theme "#VaccinesWork", World Immunization Week in 2017 calls on governments to ensure strong country commitment for immunization as a priority and for people to demand immunization as a right and responsibility. Immunization prevents around 3 million deaths annually; however, an additional 1.5 million lives could be saved if global vaccination coverage improved.
Read more about the global campaign and access to global campaign materials
Global commitment
Member States in the Region have been observing this important event since 2010 as a regional initiative, under the name "Vaccination Week in the Eastern Mediterranean Region" simultaneously with other WHO regions such as the Region for the Americas and the European Region. Success of regional initiatives and dedication of Member States have paved the way towards the global initiative.
The World Health Assembly endorsed World Immunization Week in 2012 through resolution WHA65.18 , alongside the Global Vaccine Action Plan, which is a framework to prevent millions of deaths by 2020 through more equitable access to existing vaccines for people in all communities.
Global Vaccine Action Plan 2011-2020
Benefits of immunization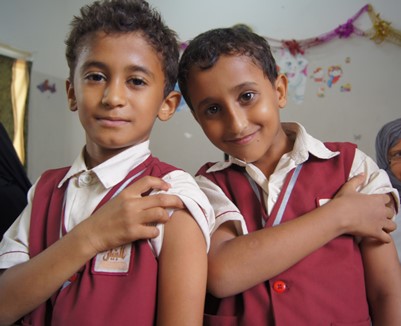 Immunization is one of the most successful and cost-effective health interventions and prevents between an estimated 2 and 3 million deaths every year in all age groups from diphtheria, tetanus, pertussis (whooping cough) and measles. From infants to senior citizens, immunization prevents debilitating illness, disability and death from vaccine-preventable diseases. Moreover, the benefits of immunization are increasingly being extended to adolescents and adults, providing protection against life-threatening diseases, such as hepatitis, influenza, meningitis and cancers that occur in adulthood.
Related links
Factsheet on immunization coverage
Myths - and facts – about vaccination
For more information and inquiries, please contact:
Dr Irtaza Chaudahri
Technical Officer
Tel: +201225604046
This e-mail address is being protected from spambots. You need JavaScript enabled to view it